Review & Insider Tips
Broadcast Production & Post Forum 2014
5th & 6th November, Bafta, London
ScreenHI took a Honeycomb delegation down to London last week to attend the annual Broadcast Production & Post Forum, which took place over two days in Bafta HQ in Piccadilly. Hugh Carswell, a musician and filmmaker based on Jura, Fiona Duncan of Skye Films on the Isle of Skye and Sylvia Hehir, a writer from Argyll joined an array of leading industry professionals for a very intimate and social two days. Find out what they learnt and took away from the experience in these really excellent reviews that give you more than just a flavour of it but provide useful nuggets and tips that you can put into practice.
Fiona Duncan, Skye Films
Making the Grade
Chair - Will Strauss, journalist; Thomas Urbyre, MD and senior colourist, The Look; Jet Omoshebi, senior colourist , Encore; Aidan Farrell, senior colourist, The Farm; Victor Riva, artist in residence, Coach House Studios.
One of the things I love about so much of the work we see on TV and at the cinema these days is the sheer level of artistry, across so many different levels. We all talk about the direction, or the cinematography, but one aspect which makes a phenomenal difference, not only to the quality of the output but also the mood and feel of the piece, is the grade.
Conjure up series like Sherlock and Peaky Blinders in your mind's eye and you'll quickly realise how the design and execution of the grade has added so much to the atmosphere and the narrative of the piece. And with the amount of first rate drama on our screens right now its worth taking a step back to look at how the work in post may have made a difference.
So what is the role of grading?
There are two very different aspects to grading – correcting errors or flaws and adding to the story. There is an analogy with sound – get the audio wrong and people jump out of the story; change the colour too dramatically, contrast it wrongly with the shot either side and the same thing can occur. On a practical note one of the tips for anyone grading for TV is to be aware of the ad breaks. Our eye quickly adjusts to changes in colour and light as part of a progression, but jump from a sombre and moody death scene to a glaringly bright white and red ad for Dominos Pizza and you'll leave the viewer running for cover – or more likely complaining that your perfectly graded and evocative scene is too dark.
So what about working with producers, directors and DoPs?
Well unsurprisingly, approaches vary depending on the person. From some who want the same look throughout or are following a pre-established style, to others who adopt a more creative stance and want the grade to draw out specific emotion in the scene. All panelists agree the old days of telecine are very different – now everyone has the same kit so an individual needs to keep working harder to find a point of difference. These days colourists are grading as much for iPads as they are for TV. But one of the downsides with the change in technology is the creeping perils of WeTransfer, allowing a whole herd of execs to all input an opinion from the comfort of their offices/trains/homes (usually anywhere apart from the grade suite) with that all too familiar refrain of "But it looks too dark on my screen." Well apart from a uniform instruction to turn the brightness up, the best advice for a rejoinder is to point your clients to the National Gallery and look at the way paintings change with light through the day.
Getting involved at the early stage
A colourist is an integral part of the creative journey. For Aidan Farrell it's crucial to meet at the script stage to plan an approach. "People always think everything can be fixed in post which to some extent is true but it largely depends on your budget." A truism is that the better things are shot at the outset the more the grade can add creative input rather than simply focus on colour correction. "Things can be fixed quickly and cheaply in post but things can be done at the shoot to help – for example shooting day for night is possible but there are ways to achieve better results. You can iron that out in the pre shoot stage."
Thomas Urbyre agrees that an early meeting is pre-requisite to agree tone, preferably before or at the offline. He carries out his own detailed research by seeking out image references from books, paintings, postcards and taking them to the meeting to share the idea and get buy-in. "Once you've got that agreement and everyone signs up to the same thing you've got something to work to which doesn't change." With the look agreed, he then needs to work out how to create it before finally putting it to the test with a series of costume, make up and lighting trials.
For Jet Omoshebi , it's not so much about defining a style as getting into the mind of the viewer. "I do things a bit differently – I grade as a consumer. I think about the shots I'm looking at and ask what they make me feel?"
There is of course, much much more to the art of a colourist – but maybe when you're watching your next drama you'll take a step back and think about how dull that scene may have been without the grade. I know I will.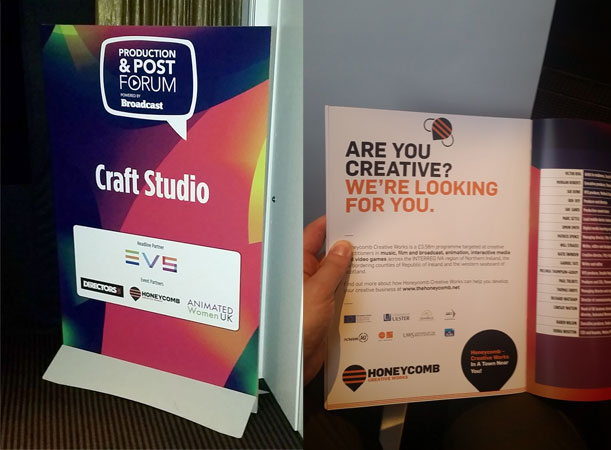 Editing Masterclass
Chair - Paddy Bird - documentary editor and director, Inside the edit; Dan James, editor; James Hart, editor; Mary Finlay, editor
The quest for music...
If you've ever proverbially torn your hair out like I have at the length of time it takes to find that perfect piece of music for your film, then you'll appreciate that this session was a split between reassurance on the one hand and the cause of a deep sigh on the other with the realisation that there really isn't an easy solution All the panelists agreed that sourcing music could take up between 35 and 45% of the time on a project and that even with the luxury of a composer often the time is so tight that the composer simply writes something 'similar' to the guide track chosen by the editor. Think of all those tracks paying homage to Hans Zimmer…. Familiar?
With each member of the panel sharing a clip of their work, Mary Finlay kicked off with an extract from a low budget feature made some years ago which she had just 6 weeks to edit from start to finish. Apart from the fact a 6 week turn round was an impressive feat in itself, she chose the clip in part to highlight one of the challenges an editor may face - that of the disparity in performance between two of the lead characters. Her role, amongst other things, was to make the difference as un-obvious as possible, doing everything she could through the cut to iron out the differences.
Top Gear – a unique creative freedom.
Dan James and James Hart, both editors for Top Gear showed contrasting clips: a power test – an 8 minute stand alone piece focusing on the performance of a car, very tightly scripted and shot with no room for ad libbing and a travel piece where the opposite applies: often involving up to 5 cameras plus auxiliaries - from on board cameras to octocopters. This format is very loosely scripted and prone to a sense of 'anything can happen'.
The contrasting styles of filming automatically lead to implications at the edit stage. For the power test, the script rules, with music playing a critical part and frequently 7 to 10 layers of audio. For the travel inserts there is less of a framework but editors are faced with hours of ingested footage all of which has to be gone through. "2 x 1 hour episodes can take around 14 weeks at the edit stage, with 1 week of post for each. It may take us 2 to 3 weeks just to go through the footage initially."
"Discipline at the workflow stage is vital, you're dealing with so many sources. Even when you gets tons of footage you just need to go through all of it, sort it, keep it in your head, move to the next. You need to do justice to some great footage."
Both agreed that Top Gear is unusual in that editors are given immense freedom to edit creatively. "Top Gear is very rare in that it allows space for creative editing. It's probably one of the only programmes that lets you do that."
The difference with drama.
Mary Finlay explains that drama editing differs in that it is all about story and performance. "We start on the first day of shooting and work one day behind. We may get up to three hours of footage a day so there is no time to go through it all, we need to rely heavily on continuity and good logging from the floor."
As the edit moves on and filming progresses, things inevitably change. For Mary one of the roles of the drama editor is to see the gaps in the script and flag them up.
"The assembly edit is ready two days after the end of the shoot. The edit team puts together a list of shots needed for reshoot and we may get half of them if we are lucky. Generally we have to present the scripted edit as the assembly . We talk a lot to the director during the shoot so we can rework material as it goes through. "
Quick cut or linger
But there was one commonality between the three editors. All felt there was a growing obsession with cutting. "There is a fear the audience will get bored, but some of the best drama is someone sitting with their thoughts. You are allowed to do that in cinema but less so for television. Film doesn't have the timing issues of TV – you can linger on shots longer."
So it's back to the edit suite for me with a resolution to improve my workflow and wean myself of quick cuts If only I could find out what that music track is I just heard…
Location Sound
Chair - Simon Bishop, chairman IPS and sound recordist; Adrian Bell, production sound miser and location recordist; Grant Bridgeman, sound recordist and location sound mixer; Paul Oaragon, sound mixer engineer/supervisor; Richard Merrick, sound recordist.
The session begins with the screening of a commercial for food soon to be released – the scene is a stately home with 30 people enjoying a festive dinner and commenting on the quality of the food they are served, trying to guess where it comes from. Perhaps unsurprisingly for a chain that never seems to be out of the papers these days for the march it is stealing on more longer-serving brands, the answer is Lidl. All well and good from a commercial point of view – this is part of Lidl's campaign to have real people commenting live on the food they sell - an approach which has been incredibly successful for the brand. Recording the audio for the ads, with their unscripted nature was a technical challenge presented to Richard Merrick. With a one day shoot and uncertain of what would be used in terms of audio, he put 30 radio mics to work, all with licences in place, and managed to capture all participants perfectly.
As many in the industry are finding, expectations are increasing while resources are decreasing and sound is an area frequently relegated down the chain where budget is concerned. All are finding that the rise in improvised/reality shows, which are largely unscripted, mean that directors/producers want to capture everything in case something is missed. In consequence radio mics are being used increasingly despite the natural reticence from all panelists who strongly favour using a boom if given the choice.
A few handy tips came out of the session:
If you're a self-shooter or director working with 2 cameras, shoot both in the wide first, then change both to the mid/CU to allow the sound recordist to use the boom in both shots. Otherwise there is no possibility to keep the boom out of shot on the wide while recording good sound on the CU.
Don't skimp on the mics - "A good radio mic costs more than a camera - you can pay as much for a good radio mic - £2500 - as you can for a DSLR."
If it's your responsibility to record sound then the key is to listen. Don't look at the script. The director/producer will know the script backwards but if you can't make out the words as a sound recordist then at that point you need to shout up. "I'm amazed at how many self shooters look through the viewfinder but don't wear headphones. Play with different mics on different clothes. Don't underestimate audio – and the cost."
If you're shooting on a noisy street, persuade the director to use a tighter shot with a longer lens. Mic up the person further away from the source of the sound. And it's better to have a continually loud motorway than an intermittent sound. As a back up always record a wild track of traffic noise for the edit.
So with a plethora of top sound recordists in the room, what was the inside scoop on Jamaica Inn, lovingly tagged Mumblegate? Well with diplomatic tact, there wasn't a direct answer to that one. Instead one of the clips shown was from a scene shot in the jungle. The lead actor delivered a whispered monologue – brilliantly clearly – in spite of the jungle noise behind, and as the Chair said "Never underestimate how noisy a jungle can be." The comment made was that there is a big difference between classically trained actors who know how to project and those that don't. "A sound recordist can only do things with a decent performance at the start – they can't fix a bad actor. "
Take from that what you will.
Hugh Carswell, Maker
Most of the time I spend making films is either 1) under pressure on location attempting to film and record footage, or 2) spent in isolation in my Jura based studio editing, grading and mixing to my own, quite exacting standards. So it was great to be invited to leave my bubble and be part of the Honeycomb delegation to the Broadcast Production and Post Forum at BAFTA in London. A few days of sharing in the wider film and TV production world, and meeting the people responsible for some of the best work that is currently commissioned. It was also an opportunity to meet the great guys at ScreenHi and the other Scottish based artists in the delegation.
The forum had a busy agenda packed with interesting sessions. A few I've picked out of particular interest:
In Conversation With Hugo Blick
Hugo was in conversation regarding his recent drama for the BBC, The Honourable Woman. I had watched and admired this series, so it was interesting to get the story behind it. Hugo was full of nuggets of insight. Things that made sense to me:
Develop projects that you are passionate about and that only you could make. It's such a long and difficult process to take an idea to the screen, that you might as well do that for something that you really believe in. And also, if it's your own unique voice and vision, then no one else could make it anyway;
Be clear about what it is and what it isn't. This helps take a project forward with clarity, and is extremely important for managing the expectations of stakeholders in the process;
Liberate people, when working with collaborators/teams, you've chosen them for their skills, so really trust them to do their bit;
Witness the scene. In drama, sometimes simplicity is best, just pull the camera back and rely on the actors to bring it to life.
Making The Grade
I also attended an interesting session on grading, with some of Britain's most respected colourists. This is a field that is of particular interest as it's a powerful tool for subliminally conveying emotion and mood - something that's really important to me in my work. A few things I picked up:
There is basic human science behind the colouring process - utilising colour to affect the emotions of the viewers. I currently try to arrive at this from instinct, but I'd like to read more about the science of it;
Utilise unique imagery for inspiration. Not just other people's film work, but unique visual compositions and colour tones that you come across in every day life;
Have a 'tone' meeting with collaborators prior to production;
Dare to vary the grade during a film. The convention is to grade a whole piece so that it is consistent from start to finish, but it can be good to switch looks for sections of a film as this can stimulate the viewers brain (which permanently becomes de-sensitised during viewing...).
In particular, from the Grading/Colourist session I took some encouragement regarding where I am based (on a remote island). One of the issues the panel was most animated about was the increasing use of file sharing for client previews - e.g. using services such as WeTransfer to preview work rather than attendance in their, no doubt flashy, Soho grading suites. Based on the Isle of Jura, these online services actually enable me to work and so it's encouraging to realise that by using them, I'm actually on a level playing field with the more established broadcast facilities in that regard.
Keynote: Richard Jobson
Finally, in the session with musician and filmmaker Richard Jobson, I found his story and attitude to be really inspiring. My main take out from Richard was his attitude - an ability just to be creative and make things happen, and not to necessarily wait for the conventional way of producing something. He very much felt like an artist with a determination to create things that were personal and important to him. This is an attitude that applies to my own music making, and which I now see I can to extend to the film making side of my interests.
Overall, the forum provided a great opportunity to engage with current issues in the film making world, and stimulated my own ideas which I look forward to developing back in my Scottish HQ!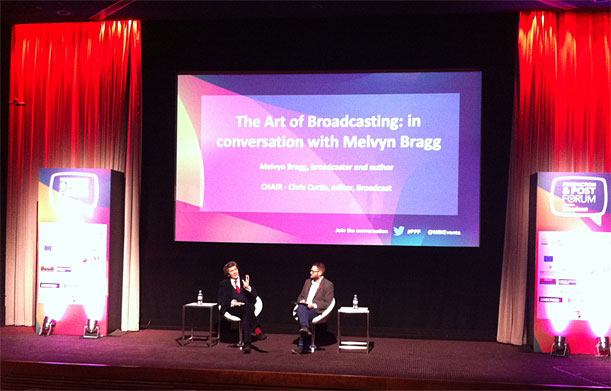 Sylvia Hehir, Writer
As a writer, I am especially interested in finding out how stories get from page to screen, and how successful pitches are crystallised before being put to commissioning editors. Through attending the Broadcast Post & Production Forum I had the opportunity to gain insight into these questions from award-winning industry professionals. Several of the sessions over the two days were pertinent for a writer, some giving an individual reflection on a specific project, others giving a wider, state-of-the-nation overview.
Utopia, written and created by Dennis Kelly and produced by Kudos Film and Television, was broadcast by Channel 4 in a late night slot. A highly imaginative conspiracy thriller about a group of people forced to go on the run from a shady organisation after discovering the manuscript of a cult graphic novel, series one received high praise for its visuals but also a number of complaints from viewers for the extreme violence portrayed. The comic book theme influenced the tone and visual effects and in production, the opening, violent scene was shot first, setting the tone for the rest of the drama, for all concerned. The violence was countered by black humour, which, the director felt, helped the audience relate to the characters. Just concern was given to the motivation for the evil acts: A returning concept in both series being population control in a highly overpopulated world. Although Channel 4 commissioned two series of Utopia, they did not continue with the third and final series or an extended 'special' episode in which the story would have been brought to a conclusion.
In complete contrast to Utopia, Marvellous, produced by Fifty Fathoms, has a high feel-good factor. A biopic on the life of Newcastle-under-Lyne born Neil Baldwin, Marvellous was first broadcast on BBC2 in a midweek evening slot. Writer, Peter Bowker said, "I first encountered Neil Baldwin through a newspaper article in the Guardian. A man tagged at school with "learning difficulties" who then went on to become a circus clown, lay preacher, unofficial student greeter at Keele University and Stoke City kit man." Bowker was concerned that a linear narrative wouldn't reflect Neil's story. During their conversations Neil brought out a scrapbook and it was decided this would be the ideal form to show the variety of Neil's extraordinary life. It is testament to the crew that Neil was involved extensively throughout the production, even appearing in the film alongside Toby Jones who plays the fictional Neil.
Both these case studies exemplify the range of starting points for a pitch and the diversity of projects that get commissioned and made for television. As a summing up of advice for writers, I highlighted in my notebook Hugo Blick's comment that you need, "A big idea with a bumpy ride".