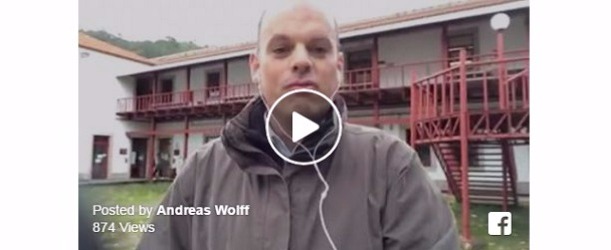 Andreas Wolff Reports From International Conference On Journalism And Mobile Devices
Thu 24 Nov 2016
Highlands and Islands Journalist Andreas Wolff is representing ScreenHI and XpoNorth Screen and Broadcast at the third International Conference on Journalism and Mobile Devices in Portugal.
Image: Copyright Andreas Wolff
Andreas Wolff
Journalist
Here is Andreas' blog about what he's been getting up to there:
POST 1: CREATING AN APP IS LIKE PLAYING LEGO, 21st November 2016
For somebody like me with a slightly technophobic tendency this didn't seem very credible. But that's what we were told at the start of today's session in how to create your own app using MIT App Inventor. It is designed for people who want to develop apps without the need to learn a programming language. Our tutor Prof Eduardo Pellanda from the Pontifical Catholic University of Rio Grande do Sul in Brazil made it sound so easy in today's workshop at Beira's Interior University in Portugal. This is their third International Conference on Journalism and Mobile Devices. I am attending on behalf of XpoNorth, Scotland's leading creative industries festival.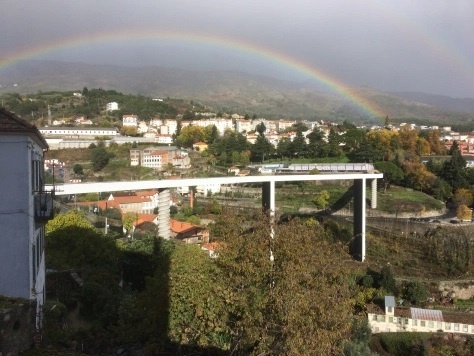 Image: Location of the conference: Covilhã, Portugal - Copyright Andreas Wolff
The answer is somewhere in between: Yes, with App Inventor even someone like me will be able to build an app, but there still is a lot to learn. I guess it's a bit like using WordPress. My chance of learning how to use it came when I broke an ankle and was housebound for two months.
App Inventor offers you a list of components you can put into your app – a bit like a choice of Lego bricks. You can choose buttons, tick boxes and fields for images to name but a few. There even is an option for artificial intelligence which can apparently recognise emotions. You can then adjust the layout, the font and so on. If you need help there are on-line tutorials like this one.
It's obviously an amazing tool for freelance journalists as well. App inventor is free, whereas if you pay someone to design even a basic app for you, the price is likely to be from £12,000 upwards. On top of that you will be paying for maintenance costs. This is likely to be prohibitive, but now there is no reason you can't create an app e.g. for hyperlocal news. Of course it still requires a good idea and business model in order to be viable.
POST 2: WHATSAPP VERSUS DOCUMENTARY, 23rd November 2016
There is a revolution going on in journalism. That's not really new. But will journalists be surplus to requirement in the future? Associated Press is already using algorithms to publish automated stories about developments on Wall Street. Yet, Prof Ramon Salaverría from the University of Navarra in his keynote speech at the 3rd International Conference on Journalism and Mobile Devices in Portugal explained why he doesn't think so.
Image: University Beira Interior, Colvilhã, Portugal - Copyright Andreas Wolff
I asked him specifically about the future of documentaries in which I take an interest. He gave the example of the textile industry. When machines were first brought in during the time of industrialisation many workers lost their jobs. Some thought that by destroying the machines they could fight the change. Time proved them wrong. But today many more people work in the textile industry than back in the days of manual labour.
The same must be true for journalism. There is no point in resisting the introduction of Twitter and even Facebook or as another speaker outlined Whatsapp as a means of sharing information. Prof Salaverría is not worried about the future of quality in journalism, but admits journalism will change drastically.
Here's how: A study found that many people appreciate sensors checking on our preferences, or even things like our heartbeat, sleep pattern, activities. We will increasingly be fed information based on our preferences. This comes with a health warning though: It may lead to the fragmenting of society. In future we may only know about the things we enjoy. Some may know everything about sports and nothing about politics or the other way round. This surely can't be desirable. The whole family watching BBC News at Six is most probably a thing of the past though, although old-fashioned as I am I still like doing so.
But of course there are positive aspects about the change. The magazine "Esquire" has already published an edition with a front page that smells and devices attaching to mobiles which can emit smells are already being developed. A Spanish magazine called "Muy Interessante" (meaning: "Very Interesting") even had an edition which was eatable. So in future it may well be possible to smell the place of a film you are watching. Who knows it might not stop there and you could get to feel tropical heat or taste a ripe mango despite being in Scotland.
We will still be watching content, but programming will be much more interactive. Prof Manuela Penafria, a lecturer from the host Beira Interior University pointed out in a paper that web-documentaries are much more interactive because it is possible to add a forum. But when the tv becomes interactive that special category may become obsolete.
As the textile industry example shows embracing the future is good. But when I think of literature I've read I struggle to remember any short stories. It's the novels that tend to stick. I think the key is in getting the balance right. Using Twitter as a wire service is great, but you could easily be glued to it 24/7. So I hope there will still be a place for longform documentaries which potentially have a lasting impact.
POST 3: REPORTING LIVE FROM 3RD INTERNATIONAL CONFERENCE ON JOURNALISM AND MOBILE DEVICES IN COVILHÃ, PORTUGAL, 23rd November 2016
Click on image to be taken to the Facebook Live report
POST 4: IDOC, MODOC OR NO DOC?, 24th November 2016
Will we still be watching documentaries in the future? Or will it be more of an interactive experience? This has been branded as webdocumentary or iDoc. Viewers, or should we say users, can choose where to go next in the story. Or will it all be replaced by virtual reality? And what is the relationship between documentary and journalism? Should documentaries be objective and balanced? Is it a good idea to shoot them on the mobile phone or is it always going to be second choice?
Change in viewing habits
As the keynote speaker, Prof Ramon Salaverría, pointed out journalism is about to change drastically making it much more tailored to our individual preferences and also making it much more experiential, including odours e.g. When I asked him about the future of documentaries he was pessimistic. Not so Prof Manuela Penafria who has written articles on webdocumentaries. A webdocumetary combines film with other elements such as maps, infographics and a forum. The viewer or user chooses where to go next. A good example is Journey to the End of Coal.
Prof Penafria went on to tell me that she wouldn't classify the documentary genre as journalism. Initially that surprised me as I tutored the documentary film module on Edinburgh Napier University's MA International Journalism course this year. But she had good arguments. In her view a documentary doesn't have a manual of ethics. She cited Michael Moore and his interviewing practices as an example. She went on to say there was no commitment to objectivity in documentaries. The director could well decide to only portray one side of the story. I would hasten to respond that such an approach only makes you very vulnerable to attacks.
Prof Penafria sees the film Nanook of the North by Robert J. Flaherty as the first of linear documentaries despite the fact that documentaries hadn't been established as a genre, yet, in 1922. It is selective in its portrayal of the Inuits. She goes on to say that many documentaries focus on disadvantaged people, the poor or disabled simply because access to them is often easier than to rich people. She hastily adds that great care needs to be taken not to make the viewer feel pity. Rather the subjects of the film should be brought closer to the spectator making them realise that they do have things in common.
Prof Penafria points out that interactive technology which is so important to webdocumentaries also needs webdesigners. So they are more complex than linear documentaries. On the other hand she mentions Facebook and all those biographies as another kind of documentary. The ability to do Facebook Live is also becoming ever more popular. I did one myself yesterday and wondered afterwards what makes people watch them. Of course family members and close friends are possibly just curious to see how you are making a fool of yourself. But there is a something about the live broadcast that hooks people in. Is it the fact that anything daft could happen? Like my fist appearing in shot at the end when I press the stop button? Probably not. But when you see reporters stand in front of a dark building at 10pm reporting live they do possibly still appear more engaged than they would if the piece was pre-recorded.
Another way our watching habits could go is in the direction of virtual reality or VR. A talk on the subject at the conference confirmed the fast rise of the genre. To create VR two or four cameras are used to film a 360 degree video. This is then watched using a goggle – a box which gives you the feeling of actually being THERE. It works really well when the camera person is in the centre of action unlike traditional filming. But as Prof Salaverría also pointed out trying to make predictions on the future is very difficult and we will probably get it wrong.
Mojo (mobile journalism) and modoc
So while traditional documentaries still exist I came to the conference to explore opportunities to produce documentaries with a mobile phone. My first documentary about a volunteering experience in Cambodia wasn't shot on the phone, but when my camera broke I recently had to shoot a news piece using the mobile. Pre-planning is crucial as storage is limited and you have to limit yourself to only shooting what you need.
So in anticipation of the conference I bought an iXpand drive with 64GB of storage space. It offers the option to record directly onto the disk. I was really excited to meet Prof Manuela Penafria who is a documentary film lecturer at Beira Interior University for an interview. Unfortunately I quickly realised that I needed to use the iXpand app for recording in order to be able to save the file directly to the disk. I had just bought Filmic Pro which is recommended by experts as one of the best camera apps currently on the market. The iXpand camera function doesn't even seem to provide an option to lock the focus or exposure as you saw in the interviews above.
Then the phone stopped recording after 3 mins telling me that it was full. I found out that although I had transferred all photos from the phone to the disk they had been moved to the recycling folder on the phone so were still using up space. The video had been saved on the disk though and when I checked the iXpand on the computer it was still showing as 63GB storage available. So why had it stopped recording? I am still trying to find out.
Some other gadgets also proved indispensable: A mic that connects to the headphone port of your mobile is an absolute must to get decent sound. An additional battery helps as filming uses a lot of power and a tripod is always advisable. You will ask why I didn't use one. The answer is: I had taken a tripod with me every day, but since an interview hadn't been confirmed I decided to leave it at home on the last day – when I needed it. A light with it's own stand would have been helpful, too.
Last not least the top filming tips are: While a Facebook Live is done vertically, filming should always happen horizontally. Zooming is not advisable, so you need to get in close. And you want to lock the focus and exposure on the interviewee or object. Otherwise you will end up with a lens trying at adjust all the time as in the clips above. Many apps allow you to do so easily by placing a finger on the phone's screen and holding it for a second.
There can be no doubt that cameras are better for filming. But when filming in daylight, mobile phones can still achieve fairly decent results. The attractiveness of mobiles as a camera is two-fold though. You always have them with you, making spontaneous filming possible and many people will feel less intimidated than by a big camera, possibly opening up more. The conclusion is that different ways of filming and genres will probably continue to coexist.
I am very grateful to XpoNorth – Scotland's leading creative industries festival – for sending me to attend this conference.