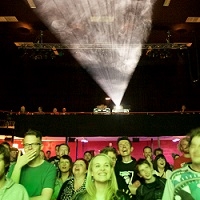 Film Showcase Announced for XpoNorth 2016 on 8th and 9th April
Fri 22 Apr 2016 / News
XpoNorth 8th and 9th June 2016
MEDIA RELEASE
FILM SHOWCASE ANNOUNCEMENT
XPONORTH, the Inverness-based festival of the creative industries, which promotes creative careers throughout the Highlands & Islands of Scotland, has received just over 2,500 entries from filmmakers across the globe looking to be part of this year's exciting film showcase programme.

XpoNorth was delighted to receive entries from 104 countries, including the USA, Iran, India and Australia as well as submissions from the Highlands & Islands, other parts of Scotland and the rest of the UK. Films were submitted via FilmFreeway, a global digital platform for filmmakers to get their work seen by film festivals.

Now, with the festival just a few weeks away, 69 films from the submission process on FilmFreeway have been successful in their bid to be screened before influential audiences of screen and broadcast professionals and festival attendees.
A further 33 curated films from partner festivals and organisations including Animation Nights New York, BFI Highland Film Academy, Screen Academy Scotland, Live At Heart (Sweden), Mediawave (Hungary), Scottish Documentary Institute and this year's BAFTA shortlist of shorts will be screened. The list includes local home-grown talent from the Highlands & Islands: a behind-the-scenes and Q&A with the British Film Institute's Highland Film Academy and a UK premiere of Dornie Director Robin Haig's film Hula, which has just won Best Drama at BAFTA Scotland New Talent Awards 2016.
XpoNorth takes place this year on Wednesday 8th and Thursday 9th June with the main conference and showcasing during the day at Eden Court and live music showcasing in the evenings at venues across the Highland capital.

Amanda Millen, Director of XpoNorth said: "It's been a fascinating process and a real insight into how grassroots filmmaking is thriving in every corner of the globe. The digital age is opening doors for people to make films on a budget wherever they are based. There were some very strong submissions from filmmakers based in the Highlands and Islands and other parts of Scotland.

"XpoNorth is all about giving a platform to emerging talent and offering free practical, hands-on support all year round."
Of the 69 submitted films this year, 33 will be screened at Eden Court in The Playhouse cinema from 10am - 5pm on both days of the festival while the other 36 will screen as part of the conference programme, one film being shown at the start of each conference session over both days.
The annual Inverness-based XpoNorth festival is devoted to boosting creative careers in the Highlands and Islands and beyond.
The only event of its kind in Scotland devoted to crafts, publishing, screen and broadcast, design as well as music, XpoNorth is also attended by leading creative industry insiders, who take part in workshops, panels and masterclass sessions over the course of both days.

The full film schedule will be published along with the full festival programme on Wednesday 4th May 2016. Look out for more announcements in the coming days and weeks!
The showcase list in full:

MAIN SHOWCASE SCREENINGS:
ALEXANDER ZELENTSOV, THE DAY OF CHERNOBYL - Mike Baudoncq (France)
ALL CATS ARE PINK IN THE DARK - Guillaume Renusson (France)
A NATURAL OCCUPATION - Florin Andreescu (Romania)
BAITS AND HOOKS - Luka Popadić (Switzerland)
BEST MAN - Seylan Baxter & Jamie Brown (UK)
CINNAMON SKIN - Alejandro de Vega (Spain)
CLASSMATE - Javier Marco Rico (Spain)
DYAB - Mazin M Sherabayani (Iraq)
EGO LIGHT - Philippe Jasmin (France)
ELECTRIC FACES - Johnny Herbin (UK)
GAME OF LIFE - Agnès Vialleton (France)
LADRONES DE TIEMPO - Fran X Rodríguez (Spain)
LIFE INSIDE 'ISLAMIC STATE' - Scott Coello (UK)
MOVING IN CIRCLES - Maxim Dashkin (Russian Federation)
NEIGHBOURS - Gabriel Khotivari (Georgia)
NO FIXED MOTIVE - Jerome Peters (Belgium)
O2 - Sam Jones (UK)
PERCEPTION - Mark S Wright & Emily Jones (UK)
RED SKY ON THE BLACK ISLE - Lisa Marley (UK)
REQUITED LOVE - Cristina Ki Casini (Italy)
SERORI - Pedro Collantes (Netherlands)
SPOON - Jalal Veisi (Iran)
STATIONARY - Mac Nixon (UK)
STILL LIFE: PORTRAIT OF A FIGHTER - Kieran Hennigan (UK)
THE AGE OF REASON - Mathilde Petit (France)
THE BELLS OF CASTERBRIDGE - Keira Brown (UK)
THE LAST BRIDGE OPERATOR - Lidi Toepoel (Netherlands)
THE HOUSE IN THE ENVELOPE - Sanela Salketic (Germany)
THE ROMANCE CLASS - Stuart Elliott (UK)
THE WALL - Michal Blaško (Czech Republic)
WE CAN'T LIVE WITHOUT COSMOS - Konstantin Bronzit (Russian Federation)
WE'RE HERE NOW - Nikki Richardson (Australia)
WE SIT. WE DRINK. NO GUNS. - Nicci Thompson & Matt Hielsberg (USA/UK)

PRE-CONFERENCE SCREENINGS:
100 SECOND RED LIGHT - Navid Zare (Iran)
BANNED FROM TRAVELING - Amin Alwan (Qatar)
BUBBLES DON'T LIE - Stepan Etrych (Czech Republic)
CANNED - Ivan Joy, Tanya Zaman, & Nathaniel Hatton (USA)
DANCE OF A BROKEN HEART - Maja Fjällström (UK)
DESERT CHILD - Luna Steven (Switzerland)
ED - Taha Neyestani (Canada)
ELECTROFLY - Natalia C A Freitas (Germany)
EYE FOR AN EYE - Antoneta Kusijanovic (Croatia)
GLORIA AND THE RAIN - Andrea Ruffini (Paraguay)
GRANNY CROCHET - Joaquín Villalonga Malpica (Spain)
GUIDE TO FETAL DEVELOPMENT - Scott Willis (UK)
I AM NOT A MOUSE - Evgenia Golubeva (UK)
I COULD EAT A HORSE - Jake Hovell (UK)
MARS 3752 - Nicolas Bianco-Levrin (France)
MEGADOUBTS - Néstor Fernández Núñez (Spain)
MILES AWAY - Dave MacLeod (UK)
NORTH COAST 500 - Iain Mitchell & Rupert Shanks (UK)
ONCE UPON 3 TIMES - Julie Rembauville (France)
QUACKSALVER - Jorn Leeuwerink (Netherlands)
RED - Ario Saffarzadegan (Iran)
SANDYMAN - Ed Chappell (UK)
SIRIMIRI - David Márquez (Puerto Rico)
SWITCH - Max Machado (Canada)
THE CHIMNEY SWEEP - Nicolas Bianco-Levrin (France)
THE DAY IT SNOWED - Pooyan Sedghi (Iran)
THE OCTOPUS LADY - Amanda Wang Ziyan (Singapore)
THE ONE WHO TAMED CLOUDS - Nicolas Bianco-Levrin (France)
THE SONG OF WANDERING AENGUS - Matthew Lawes (UK)
THE THEFT - Mohammad Farahani (Iran)
TOM - Piotr Piasta (UK)
TRIPBOOK - Nicolas Bianco-Levrin (France)
TUCK ME IN - Ignacio F. Rodó (Spain)
TYPEWRITERHEAD - Eric Giessmann (Germany)
WHAT DO YOU SEE? - Scott Willis & John Batty (UK)
YOU CI KE (有刺客) - Ronald Fong Ren Kai, Han Qingping, Su Xianting, & Candice Lee Ling Hui (Singapore)

CURATED PROGRAMMES:
BAFTA SHORTS
EDMOND - Nina Gantz
MANOMAN - Simon Cartwright
MINING POEMS OR ODES - Callum Rice
OPERATOR - Caroline Bartleet
OVER - Jorn Threlfall
PROLOGUE - Richard Williams
SAMUEL - Billy Lumby
BRITISH FILM INSTITUTE HIGHLAND FILM ACADEMY
ABSENCE - Lauren McAllen
THE QUANDARY - Kane Stewarts
BFI HIGHLAND BEHIND THE SCENES - Tristan Aitchison
Q&A WITH FILMMAKERS
MEDIAWAVE, HUNGARY
BLACK OUT - Borbála Mészáros & Zsuzsanna Rádóczy
CHICCUP - János Izer & Máté Tóth Heyn
DIRTY WORK - Dániel Füzes
RE-EXAMINATION - Balázs Bozzay
THE HANGNAIL PICKER - Krisztián Király
URBAN BLINDNESS - Luca Anna Molnár & Zoltán Debreczeni
WARBURG - Dávid Borbás
LIVE AT HEART, SWEDEN
BOY-RAZOR - Peter Pontikis
EXPOSURE - Björn Van Weiden
I'VE GOT YOU BACK - Sebastian Lagerkvist
THE KEEPER - Öystein Thorsen
SCOTTISH DOCUMENTARY INSTITUTE
OTTICA ZERO - Maja Borg
POUTERS - Paul Fegan
THE THIRD DAD - Theresa Moerman
SCREEN ACADEMY SCOTLAND
TRANSIT ZONE - Frederik Subei
UK PREMIER
HULA - Robin Haig
Q&A WITH DIRECTOR - Chaired by Richard Warden, Scottish Mental Health Arts and Film Festival

NOTES TO EDITORS:
XpoNorth takes place this year in Inverness on Wednesday 8th and Thursday 9th June.

XpoNorth, is funded by Highlands and Islands Enterprise (HIE) and the European Regional Development Fund (ERDF).
Website: www.xponorth.co.uk
Twitter: @XpoNorth
Facebook: www.facebook.com/xponorth
Instagram: www.instagram/xponorth
Hashtag: #xponorth

For further info or interviews please contact Amanda Millen on info@xponorth.co.uk, Jan Patience on janpatience@me.com and 07802 427207