Inside the box at the TV Fiction Writing Masters at GCU
Mon 7 Jan 2013
ScreenHI has been working with Shed Media and Glasgow Caledonian University for a number of years to support the Masters degree in Television Fiction Writing by providing a limited number of scholarships for residents of the Highlands and Islands who apply and successfully gain a place on the course This year Bryony Robinson from Inverness and Craig Laurenson from Shetland were both offered a scholarship and will be reporting back regularly throughout their course to give us an insight into the content, what they are gaining from it and aspirations for the future.
Craig Laurenson, Thursday 3rd January 2013
I've spent today reflecting on my first semester as a Postgraduate Student of MA TV Fiction Writing at Glasgow Caledonian University – and, wow, what a busy few months I've had!
It really has been a bit of a whirlwind – but a most positive one at that! Having graduated from GCU with a First Class Honours Degree in June 2012, I set my sights on a place on their prestigious Masters course, the only course in Scotland specialising in developing the craft of writing for television specifically. After a nerve-wracking interview day, I was delighted to be offered both a place on the course, and a scholarship opportunity from ScreenHI to do so. September quickly came about, and I was delighted to be studying alongside like-minded people, all sharing my passion and desire to develop a career in writing television dramas.
The course isn't for the faint-hearted – it's fast-paced and works to a very high standard, but is thoroughly enjoyable and is honing my writing skills no end. The first semester was broken down into four modules of study, developing our knowledge and skills across a number of platforms, including developing our own original TV drama, as well as writing for existing long-running serial dramas. Taught by Ann Marie di Mambro and Chris Dolan, we really are amongst the best of writing talent Scotland has to offer, and between them have written for some of the UK's biggest television shows, including Casualty, Holby City, EastEnders, and – closer to home – River City. Ann Marie and Chris have been fantastic mentors and advisors to us on the course so far, bringing real industry experience and knowledge that has been unquestionably rewarding.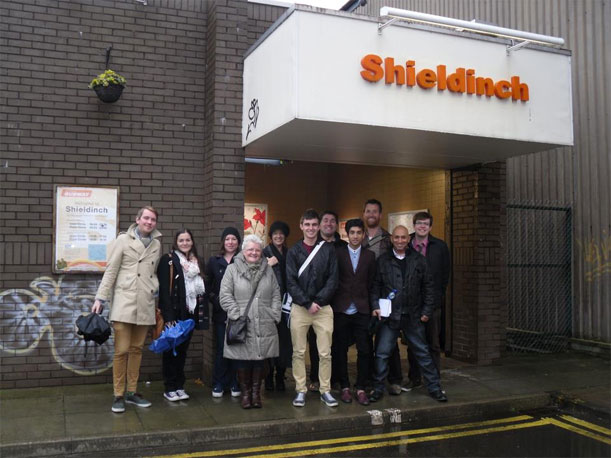 One real highlight of last semester was the opportunity we had to visit the set of River City to help us in our scene-by-scene planning for our own River City scripted episode we were developing as a class project. It was a fantastic experience to take a walk around the back lot and see where the drama is brought to life, as well as meet some of the cast! Not only that, it was immensely useful when it came to plotting scene locations for the episode of River City I was developing. You can see from the picture our class even tried to sneak a ride on the Subway from Shieldinch!
Prior to Christmas was a busy period with deadlines galore – and it's about to start up again now we're into a New Year. I look forward to putting pen to paper, and continuing with this fantastic course in 2013.