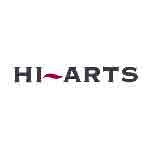 Making Progress 2011
Mon 2 May 2011
Catherine spent the Spring/Summer of 2011 researching, reccing, filming and editing 4 short films on 4 craftmakers selected for the Hi-Arts mentoring scheme Making Progress 2011. Here are her thoughts and feelings from production!
A Visit to the Maker: Patricia Niemann in Caithness
20th March 2011
This month, having recently been taken on board by ScreenHI to make films about the artists showcased in the HI-Arts Making Progress mentoring scheme, I've been really keen to get stuck into the project and am very enthusiastic about learning all about the process involved (and, of course, meeting lots of new people along the way). After my initial meeting with Pamela and Amanda in the HI Arts office in Inverness a couple of weeks ago, this Monday I embarked upon my first visit to one of the artists being showcased in the scheme: Patricia Niemann. From reading up on her work and blog and our brief to and fro of preparatory emails, I was really looking forward to meeting her in person.
We'd planned that I would arrive at lunchtime on the Monday but the forecast over the weekend looked bleak to say the least so I was a bit worried that I might not be able to make the journey up to Caithness. But, as it turned out, rather than impede the already fairly long and somewhat arduous four hour drive, the weekend's snowy weather just helped to make it an even more beautiful and scenic run than it might otherwise have been. (If anything, the distractingly beautiful landscapes I was continually confronted with on the way up probably posed more of a hazard to my driving than any slippy road surfaces ever could have…). It also helped to get an understanding of Patricia's work before I arrived, although I didn't know this at the time. As I gradually made my way physically through rural Caithness I was very gradually being immersed into the world that so strongly influences and gives home to Patricia's creative practise…
Upon arriving at Patricia's studio we pretty much immediately (over lovely home made soup, my lunchtime arrival was no happy coincidence…) launched into a discussion about her creative practice, her influences, her experience of being involved in the Making Progress scheme over the past year and what she and I both hoped to achieve from collaborating over this video together. As I had previously suspected, she is a very energetic and inspiring person and, as such, had a very infectiously energetic and inspiring effect on our discussion. And happily for both of us she introduced an idea for a film that she has had "brewing for some time" so from the word go we had a starting point from which to develop (hatch?) a plan. So with a vague and exciting discussion of this plan under our belts and the aforementioned lovely soup resting nicely in our bellies, we hopped in the car and set about our world tour of the local area.
We visited three sites in total, each one as stunning and dramatic as the last. From the landscape and natural environment itself I got a real sense of how and why it is that Patricia makes the work that she does and how it will inevitably need to be the integral cornerstone of the film we're going to make if we are properly going to reflect her practise as an artist. Although in my mind her relationship with this environment is possibly a bit like the one with the chicken and the egg: did she have a way of working and then stumbled upon Caithness and everything made sense or was she working a particular way and then, upon moving to Caithness, did her work evolve in synch with her surroundings? Either way it doesn't really matter, I just enjoyed mulling that over as we drove through the beautiful countryside listening to 1970s psychadelica remixes. (Patricia later informed me that had I not been there she would've been singing along out loud. I think I would've enjoyed that too and I told her this but she assured me that I certainly would not have.)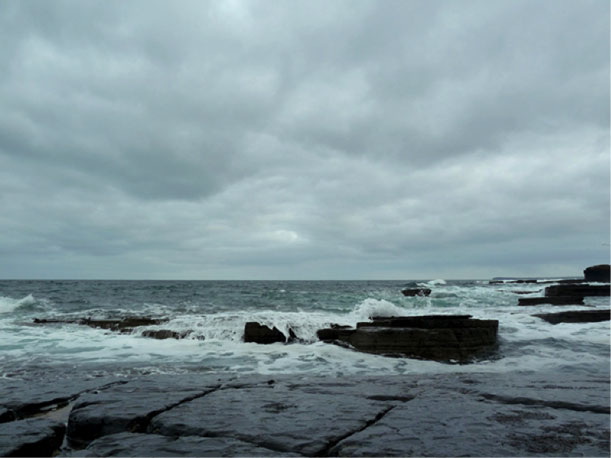 We continued exploring the local area by car and by foot until dwindling daylight hours and a slow rumbling hunger dictated that we should probably stop. At this point we retreated to Patricia's cosy wee house on the top of a not so wee hill and further discussed our plans and compiled some to-do lists over an amazing dinner of Jerk style ham and leeks and mashed tatties. And then before we knew it the day was over and it was time to bed and I went to sleep exhausted and weatherbeaten and excited about working with Patricia and developing our plans further over the coming weeks…
In the morning I enjoyed more of the Niemann hospitality I had been exposed to so far (home made spelt waffles and lemon curd) before jumping in the car and making my way back to Fort William Needless to say I am very excited about this project and making something that both Patricia and I can be proud of and now (even more so than before) very much looking forward to meeting the rest of the makers and seeing what we can come up with together.

Visit to meet the Second Maker: Nick Ross in Aberdeen
3rd April 2011
Last Friday I made my way to Aberdeen to meet with Nick Ross and chat about his maker's video. He's currently the artist in residence and a tutor in Gray's School of Art and, having only graduated in 2008, I was impressed before I had even arrived at how he had become so established in such a relatively short time.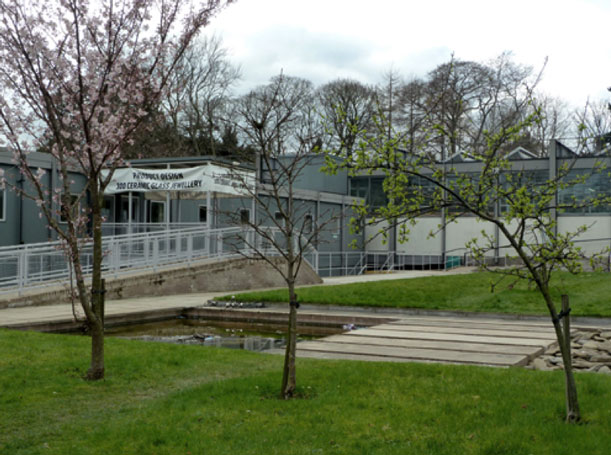 I'd had a good look through Nick's website and read his blog entries so was really interested to hear about his practise. From my time in art school, I have always been very aware of a very distinct, although very often completely unnecessary, divide between fine art and design and what intrigued me most about Nick's practise was how he seems to straddle this perceived divide through working with a very design based problem solving ethos but, in doing so, producing work for a gallery environment.
I'd come to realise, through the organising of this meeting, that Nick leads a fairly nomadic lifestyle (living and working between Aberdeen, Inverness and Glasgow) and not long into our discussion in the art school cafeteria he seemed keen that this be reflected in the video somehow. He talked of how this nomadism is integral to his working process, how it often compartmentalises his life into very clear practical activity (Aberdeen) and research based activity (Glasgow and Inverness) and, alongside this, has instilled in him an empirical awareness of how small this country actually is in terms of traveling between jobs and sourcing materials. Nick had also done a lot of research on the subject of makers films so I was almost immediately given a list of recommended viewings for when I returned home so that I could gain an insight into the format and type of aesthetic we will strive for in working together.
After a good chat about what we both hoped to reflect through his video, Nick took me for a tour around the product design workshop and for a visit to his own personal studio annex.
The fact that this studio had been a disused men's toilet adjoining the product design workshop prior to Nick's claiming it for his own personal use was, strangely, not a complete surprise. As I mentioned before, Nick quite clearly works with a very pragmatic solution based design ethos and, as such, seeing ongoing works and evidence of his trials and experiments arranged within a former men's bathroom made perfect sense. And I'm still quite enjoying the idea of his work beginning it's life in one type of white cube and ending up in entirely another…
Once we were done for the day I left Nick to his making and tutoring devices and made my way back to the city centre with the cogs in my head turning nicely. As with Patty, I'm very excited about this video and now, even more so, my role overall in the Making Progress project. Already I am aware of how different the artists involved are and consequently how different the processes and outcomes will be for each and, as such, I feel the whole learning experience will be pretty well rounded. And on a more selfish (nosy) note, I wish I could be there to see his work develop into finished pieces. It sounds like it'll be a fun process.
Filming with Patricia Niemann in Caithness
2nd May 2011
Ok, so stupidly this will be a photo-less blog entry. I got so carried away with the moving pictures I completely forgot to get any not moving ones. Lesson officially learned. Although this is very much in keeping with the rest of the entry as it was a day of learning lessons all round.
For example, lesson number one: Never assume that it will be blustery windy day in Caithness, despite overwhelming meteorological and historical evidence to suggest that it probably will be. With all our best laid plans firmly in place, Patricia, myself and Brian (Patricia's very patient and obliging model) set out one Sunday morning in April to set them in motion. And I am always very aware that my hindsight can be a bit too rosy so I was very pleased to find that the location we had decided upon before was just as I remembered from my previous visit: striking and dramatic and beautiful and lots of other wonderful adjectives that I am not clever enough to summon to my fingers right now. But as I mentioned before, we had banked on the usual Caithness weather conditions so, although I was very pleased to be spending a day working in the glorious sunshine with some very nice people, it also threw a little bit of a spanner in the creative works. But as the proper Scots that we are (two native, one honourary), we were not going to let something like unforeseen weather conditions get in our way and so, from the word go, we set about adapting our original plans to tie in with the most wonderful un-Scottish conditions that were thrust upon us.
From this moment on the day went smoothly and enjoyably (well I speak for myself when I say this. Patricia's model friend Brian might possibly be one of the most patient and good humoured people I have ever met and can be sure to expect lots of wonderful karmic recourse for the amount of time he was happy to spend shrouded in black wool and tarpaulin on such a sunny spring day) Patricia had brought lots of examples of her work with her so we had lots to work with and, due to the much aforementioned sunshine beating down on us, the effects of the light on the glass and metal work were really beautiful and it wasn't long before the day was drawing to a close and we had all we came for and there was nothing left to do but eat the picnic we had forgotten to eat in the middle of the day because we were so immersed in the day's purpose.
And, after all our initial weather based turmoil, Patricia made the very excellent point that had the conditions been as bleak as we had hoped for we would never have survived being out and about in it for so many hours. So retrospectively I definitely feel that it all happened for the best.
Upon my return from Caithness all that was left was to edit the footage into something that would reflect the enthusiasm and vision of the day and hopefully the final video has done just that. Amanda and her critical eye came to see me towards the end of this editing process and her advice, as both an objective audience and an industry professional, was invaluable to the final realisation of the film and will most certainly come in so useful for the three films that are yet to be made.
And I'd like to finish with a backdated wellwishing for Patty with her "Bones & Beasts" exhibition, I'm sure it's brilliant and I can't wait to take a trot up to Inverness to see it for myself!
Visit to the Third Maker: Caroline Dear in Skye
2nd May 2011
My third visit was to Caroline Dear, in Fangan, which is a wee collection of houses a few miles on the other side of Portree if you come from the direction I did. The run to Skye from Fort William was as beautiful as my drive to Caithness and reminded me again that there is such a spectacular and varied landscape right on my doorstep and I am a fool not to take advantage of it more regularly than I do. Caroline's house itself is on the tip of a beautiful miniature peninsula in a bay. She described it to me in her directions as the house nearest the sea. She told me later that it was technically the second house on the left in that wee road but visitors often found that concept too confusing and never quite found her with it.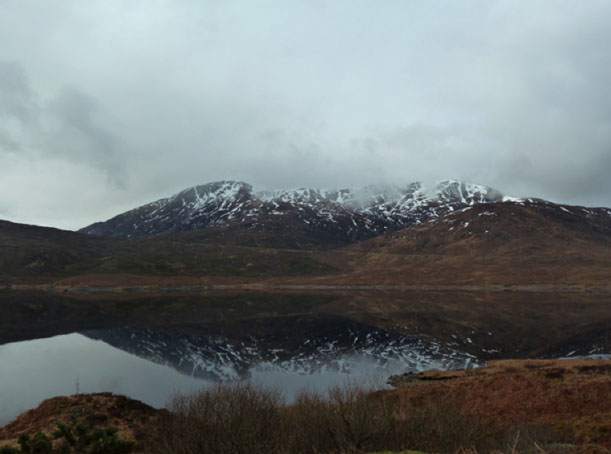 Caroline has previous film making experience so following our initial chats in her house I was promptly taken next door to her adjoining (freshly tidied and organised) studio and shown a very fitting and clear foundation for a plan about how she would like for us to approach the making of her film. And (I'm touching wood while I write this) it all made perfect sense and I think it'll reflect Caroline's practise in the exact right way and I think we should have absolutely no problems whatsoever when we meet next (wood touching stops here). And after this the only thing for it was for us to step outside and take a wander around the fields where she collects the bulk of her materials and have a scout about for possible locations and backdrops.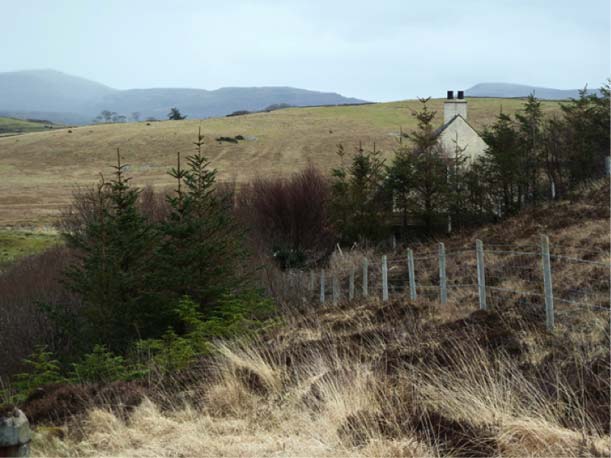 Something I really enjoyed with Caroline, as with Patty, was being taught to look more closely at the natural environment. This was not a spoken tuition, just through her looking and admiring I felt compelled to look and admire too and, during our relatively short expedition through the local area, I felt like I began to see with my novice eye how much colour and variety there can be in the undergrowth if you actually look. I might previously have wandered by this habitat accepting it passively as brownish with maybe a wee bit of green here and there but, whilst discussing with Caroline, I started to see vibrant reds and purples and oranges and yellows… It was a bit like those Magic Eye pictures but on a bigger scale and with much more impressive imagery.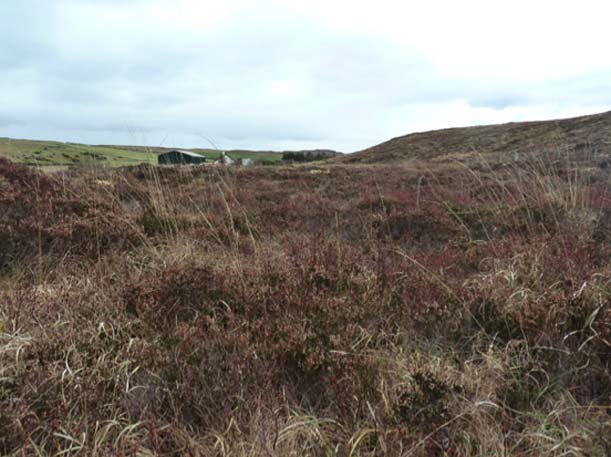 And over and above all this I was very struck with how intertwined Caroline's practise and day to day life appeared, to me, to be. Her house and studio are attached to each other and every morning she goes for a walk and collects material for the rope she will be making that day and I just got a strong impression that her lifestyle and practise are very successfully intertwined and so then I considered the idea that this was part of the weaving practise just on a larger more abstract scale. But this could all very well be because, after having looked over a lot of her work, I had weaving and intertwining on the brain. Anything is possible. Regardless of what is true, this sense of weaving and complimentary activity will form the framework for Caroline's video and, again (touch wood) will all make perfect sense in the greater context of her practise (touching wood, again, stops now)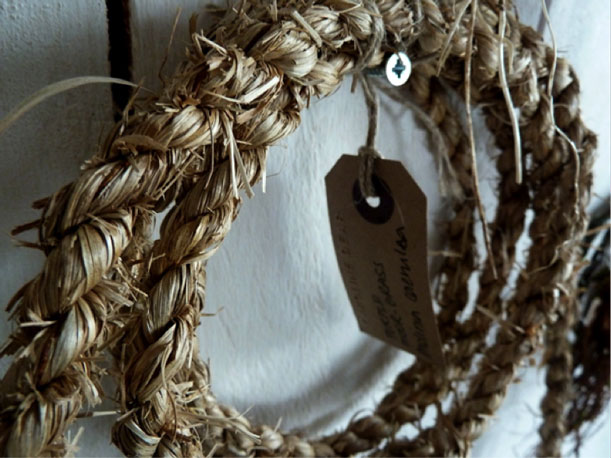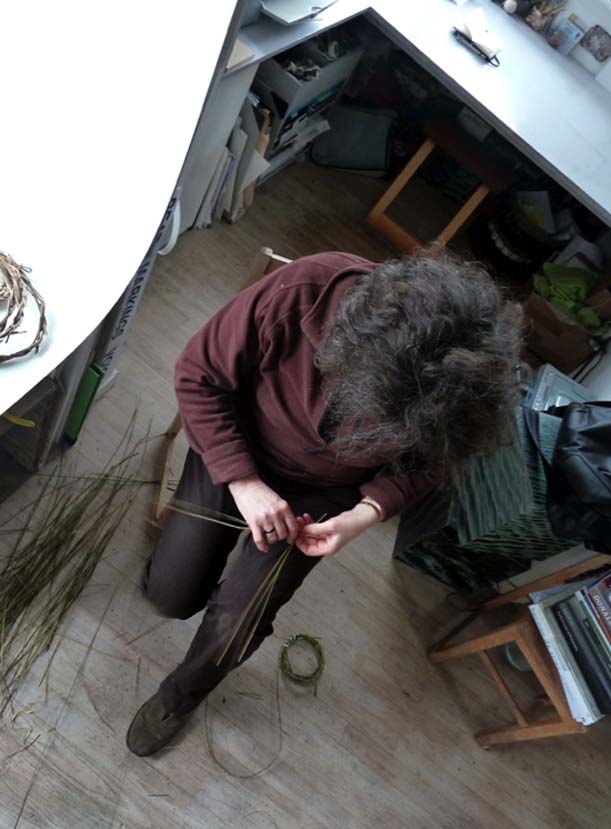 Filming with Nick Ross
24th June 2011
Another slightly late blog entry although if truth be known I've been struggling to write about my day filming with Nick without it looking like I just copied and pasted the blog I wrote about filming with Patricia and changed a couple of words here and there… In short it went like this: the original plans got changed by outrageously bad (or wrong) weather conditions; we altered our plan quite drastically to accommodate this weather situation; we actually realised the new plan was probably better than the first and in the end had quite a successful afternoon filming together…
Well maybe I'm exaggerating Actually the summaries are the same but they, of course, were very different days with different obstacles and equally different triumphs. First of all, unlike with Patricia in Caithness, it was vaguely sunny weather conditions we were hoping for but as it happened our scheduled day of filming fell on one of two or three hurricane style days that Scotland has had this year, where huge planks were falling from scaffolding and trees were being ripped neatly from the ground and flung like matchsticks across roads into oncoming traffic and I'm pretty sure at one point I saw at least three horsemen of the apocalypse come striding over the hills on the horizon… Okay, too much maybe, I do like drama. But the weather was rotten, too rotten for a standard issue tripod to battle against, so filming in Glasgow was scuppered for the day, as was our intended train trip due to weather based cancellations. But in the end we got the bus to Aberdeen instead and, lo and behold, by the time we got to Perth the world was nice and liveable again and we (I) forgot all about the fourth horseman.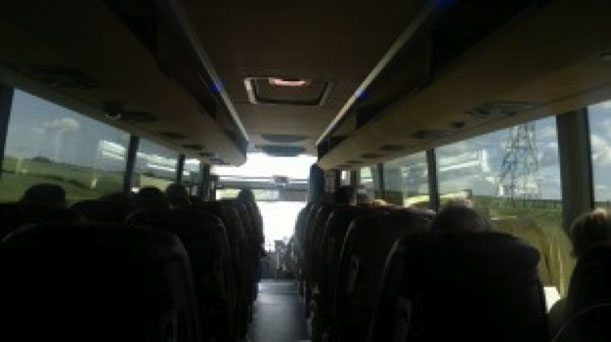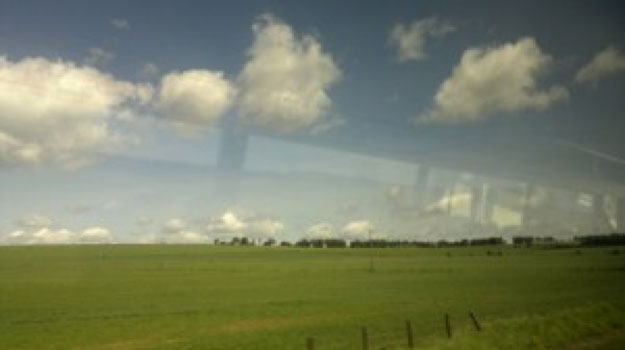 As mentioned in my previous entry about meeting with Nick, our intentions for his film were twofold: to depict his traveling time, which is key to Nick's practise as he used it for research and computer based development, and to also slot it's making as unobtrusively into Nick's travel time as possible, as using available time and resources efficiently is something that Nick does throughout his working life. And, after reflecting on why we had wanted to film in Glasgow at all, we realised that actually focusing on just one journey Nick makes regularly would perhaps be slightly misleading because actually Nick moves regularly between Glasgow and Aberdeen AND Inverness.
Upon this realisation, I decided that perhaps the extreme weather conditions in Glasgow were for the best in that it pushed us towards making a film that would reflect Nick's travel time more open endedly rather than as a clear stepping stone between just two places So we got the footage we had always planned for on the move and back at his studio and, as is often the case in the east coast, it turned out to be quite a beautiful and sunny day in Aberdeen and I think we got a lot of nice shots to illustrate our overall concept.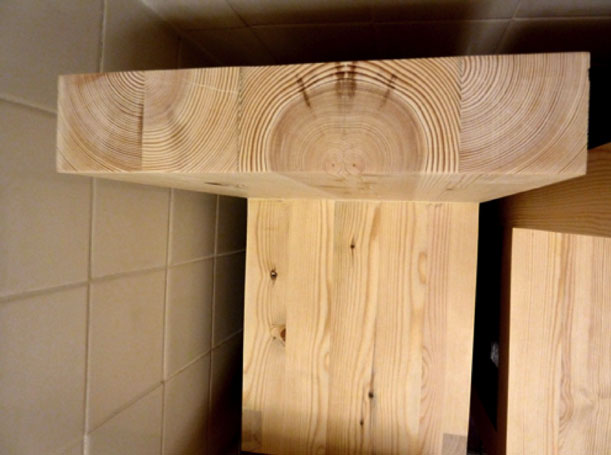 So hopefully his final film has achieved both of our initial objectives. And, although I sadly missed Nick's exhibition opening, I have been in to see it and thought it looked great. It's still on for another week or so so if you're reading this and haven't been to see it yet I would thoroughly recommend popping in!
Filming the Final Film with Jennifer Cantwell
20th August 2011
In the run up to starting on my fourth and final Making Progress maker's film I was pretty excited for a variety of reasons, not least because finally I was to be working on my home turf! Throughout this project I have loved very much travelling around new and strange parts of the Scottish Highlands, meeting & working with new and interesting people, but there's something to be said about getting to work in a place you love already. And it's especially interesting to spend time being taught to observe a place you think you know well through somebody else's eyes (or ears as the case may be…).
So after my initial meeting with Jen Cantwell in her cosy wee Forres studio we arranged that when the weather conditions were just right she and her partner/collaborator/sound technician/chauffeur Dave Martin would travel down and pick me up on their way to a day's sound recording in Smirisary, near Glenuig. So one beautifully sunny Wednesday somewhere in the middle of July that is exactly what happened.
After a quick hello and cup of tea at mine we all piled into Dave's car and hit the road, chatting all the way about anything and everything: the project, people we knew in common, zombie films, electric ceilidhs… and of course about how lucky we were to have such a cracking day for roaming around the countryside. Now I don't know if it comes with being a mum or from juggling a conceptual knitting practise with a commercial sporran design practise or if you're just born with it or a combination of all of the above, but I got a strong impression from Jen that she had just the right balance of being super organised but within that framework of organisation left a lot of room for playing it by ear and just seeing how it goes. So this was how I decided to approach making Jen's film. I knew I wanted to document the sound recording process, reflect in some way the sense of place and exploration that Jen has running throughout her work and perhaps get a couple of shots of wee birdies larking around but other than that I was very happy to just see where the day took us.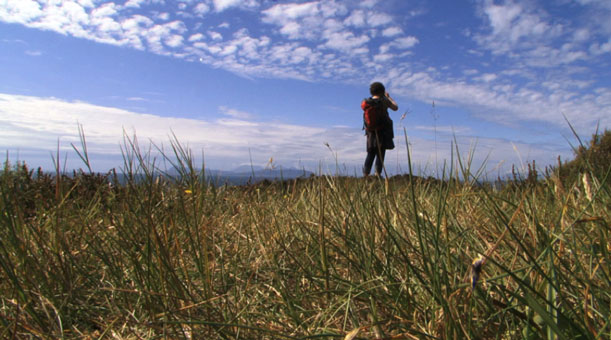 And as it happened, not only did we go to Smirisary, we also popped into the Glenuig hall (where we bumped into Pamela) and the forest beside it and then, on our way home, into the Lochailort Post Office, which is without a doubt the best post office I have ever visited in my entire life. By and large the day's events ran seamlessly (well, after I learned to stop crunching loudly through the undergrowth with my camera and tripod, scaring away all birds in a half mile radius while Dave was trying to record them…).
That night Jen and Dave dropped me back at my house and I had the opportunity to go over the day's footage before the next day of filming up in Jen's Elgin studio and see how the playing it by ear had gone and where I thought I would like to go next. For this reason, the next day in Jen's studio was very straightforward. It was also great to be able to see the audio to visual transition of the bird sounds, from twittery chirping birdie noises to the clean and crisp sound waves on a glossy screen to a multicoloured textured piece of knitted fabric. And after this, our second and last day's filming, I left Jen to her seemingly infinite pile of work while I went back to my much more manageable process of putting together all our sound and video footage. And now it's all done, three weeks on, I genuinely hope that the resulting wee video from our two days filming together adequately reflects Jen's practise in a way that she's happy with.
And so I'd just like to say thanks to Jen and Dave for a great day out (and for my Solero, yum). I haven't had a chance to pop into her exhibition but I've heard nothing but rave reviews so am very excited about taking a gander up this week!