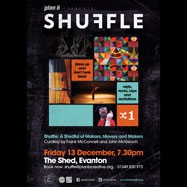 Welcome to Shuffle...A Shedful of Makars, Movers and Makers!
Fri 6 Dec 2013 / News
Friday 13 December, 7.30pm at The Shed, Evanton
Shuffle #1 is the first in a series of live events being held by plan B over the next 2 years celebrating the work of established artists as well as talent emerging from the Highlands.

Throughout the evening, curated by Frank McConnell and John McGeoch, expect flashes of inspiration, rough and ready round the edges, with a nod towards new work and new performance across music, dance, spoken word, film, theatre, comedy and visual art.

For further information and to reserve your place(s) or a full table call Aisla on 01349 830 973 or email.

On the night it's BYO bottles and parking will be available.

Dress up and don't look back!