David Cosgrove
Writer
Argyll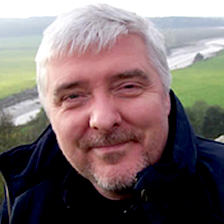 Musical in development
With Tony Award winner Don Black
Comedy drama in development
With Karen Dunbar
Elemental Fear
Feature film in post production
Three Steps to Heaven
Script, Musical
Uncle Dad
Scripts
Children's TV series, CiTV
Geordie
Play
Scottish Youth Theatre
When A Star Falls
Play
Scottish Youth Theatre
About
David's involvement with and support from ScreenHI through attending and participating in a number of writing workshops for television and film, was a significant factor in him being awarded a full scholarship for the MA in Television Fiction Writing at Glasgow Caledonian University, 2010/11 David has had a varied career, writing for theatre, television, and radio, and his first feature film, Elemental Fear is currently in post production.
As an Associate Artist with Scottish Youth Theatre he leads courses in writing for 16-25 year olds, and has also contributed several plays to the company's repertoire; two of which, When A Star Falls and Geordie were part of the Scotland Week celebrations in New York in 2006 and 2007 His comedy material has been performed by Craig Ferguson, Robbie Coltrane, Ford Kiernan, Bruce Morton, Fred MacAulay, Elaine C. Smith, Gerard Kelly, Andy Gray, and Jack Milroy to name a few For the BBC, he has been a script reader, comedy consultant, stand-up judge, and writing tutor.
We have provided this area of our website for companies and freelance practitioners that ScreenHI has worked with in the Screen and Broadcast industry based in the Highlands and Islands to showcase, network and profile their work and craft.