Alistair Murray
Producer,
Writer
Caithness
Bog Box Network
Links
Sister Curse
Feature screenplay in development
The Game
1 x 30 min short film
Big Box Network (pre production)
King Macbeth
1 x 93 min, screenplay
Big Box Network
Time To Be Sleeping
1 x 17 mins short film
Big Box Network
Stroma
Book
Islands Book Trust
On The Tral of the Real Macbeth, King of Alba
Book
Luath Press
Macbeth
Transmedia
Highlands and Islands Enterprise
About
Alistair successfully applied for the Content Producers role on our Radio goNORTH training programme in 2012 One of 12 producers he completed the 2 week immersive role of running a radio station for three days during the festival with the support and expert guidance of ScreenHI partners Dabster Productions He was first introduced to this medium back in 1998 when he began presenting the Jim and Ali Show, broadcasting its own brand of madness, continuously on Caithness FM since the station opened.
He wrote his first short story, The Snow Goose, in 2006 and this led to the King Macbeth project, telling a story across a landscape with digital, mobile and printed media, followed by work on the Zolk Award Winning Culloden Battlefield Guide and Seabridge Wild Coastal Trail mobile activity. His first book, On the Trail of the Real Macbeth, was co-authored and published in 2008, the second, Stroma, in 2011. His first short film script, Time to be Sleeping, was released in 2012 and screened at goNORTH, and his second, The Game, will be available in 2013.
Macbeth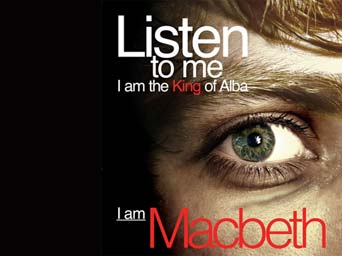 We have provided this area of our website for companies and freelance practitioners that ScreenHI has worked with in the Screen and Broadcast industry based in the Highlands and Islands to showcase, network and profile their work and craft.