Alan McDiarmid
Writer
Ross-shire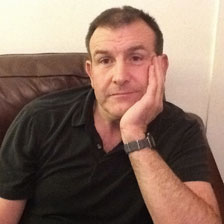 Big Break
1 x 10 min radio drama (in production)
HI Wireless/ScreenHI
Ferry
(in development)
MG ALBA
Brogan is Barraillean
3 min documentary
FilmG
Shoe be do
3 min documentary
Independent
Duncan's Road
30 min radio script
Independent
Domhnall a' dol ag obair
3 min documentary
FilmG
Three Chimes For Christmas
2 act pantomime
Inverness Florians
John Alec Has Died
30 min screenplay
Move On Up
About
Alan successfully applied for our 2012 HI Wireless drama writing programme, which is designed to encourage and develop aspiring drama writers through supported workshops and mentoring. The scheme will culminate with twelve 10 minute dramas being recorded for broadcast online in mid 2013 Alan is a school teacher and has taken up writing fairly late in life. Writing pantomime and other smaller pieces for the school and local amateur drama group led him to seek training in the craft of writing to improve his skills.
In 2008 he was one of 12 selected in a national scheme for Channel 4's writer development for a TV Pilot Project. He linked with professional writers and producers culminating in him developing a script for TV which was optioned by the Cromarty based production company Move On Up A great place to work on his craft has been short documentary films and he has had some success with short-listings in local film competitions and festivals. In 2010 he won Best New Director in the FilmG competition with a film Brogan is Barraillean He likes to write about things that are very local but he feels strongly that such topics can be a lens to view wider issues and contexts. He hopes to continue exploring these themes while remaining ever open to new possibilities.
We have provided this area of our website for companies and freelance practitioners that ScreenHI has worked with in the Screen and Broadcast industry based in the Highlands and Islands to showcase, network and profile their work and craft.