Dave Till
Performance Poet,
Writer
Moray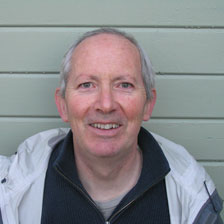 Tricky Business
3 x 25 min episodes
BBC
Bradley
1 x 25 min episode
ITV (Granada)
Chucklevision
Various storylines
BBC
5 Minute Theatre
2 x 5 min theatre scripts/performances
National Theatre for Scotland
I'm A New Age Man
Poetry collection
Self Published
The Violet Letters
Magazine column collection
Self Published
Violet Saves New York City
Book for young adults
Unpublished
About
Dave currently works as Publicity Officer for the Universal Hall Theatre in Moray He successfully applied for our 2012 HI Wireless drama writing programme, which is designed to encourage and develop aspiring drama writers through supported workshops and mentoring. The scheme will culminate with twelve 10 minute dramas being recorded for broadcast online in mid 2013. Dave has been writing in different media over the years, including radio and television scripts, some of which were broadcast on BBC and ITV In addition he has written 3 (as yet) unpublished books for children and is a performance poet with his work seen in the National Theatre of Scotland's 5 Minute Theatre web broadcast He used to lecture in Film and Television Production at Salford University and is interested in exploring the use of video in live theatre shows and performance poetry.
He has been fascinated by radio drama ever since he landed a professional placement with BBC Manchester to watch an Afternoon Play being recorded in the studio for Radio 4 In recent years, he was a participant and wrote a script for the Pilot project backed by Channel 4 and ScreenHI and he has self-published a book of his own poetry He has also self publicised a book of letters from a character Violet whom he created with the sole purpose of writing to the Findhorn Community weekly magazine The Rainbow Bridge. Violet is a ultra-opiniated character aged 8 – a comic creation that has survived over ten years of letter submissions.
We have provided this area of our website for companies and freelance practitioners that ScreenHI has worked with in the Screen and Broadcast industry based in the Highlands and Islands to showcase, network and profile their work and craft.