Alison MacDonald
Writer
Western Isles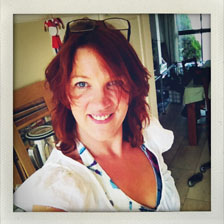 The Honeymoon's Over
1 x 10 min radio drama
HI Wireless/ScreenHI
Colum Cille Exhibition
Exhibition text & Exhibitor
Museum Nan Eilean
The Lighthouses of the Western Isle
Exhibition text & Exhibitor
Museum Nan Eilean & British Museum UK Tour
Not Made In Britain
Short story
Scottish Executive
Transatlantic Bible Belt
Comedy short story
Community Twinning Project
About
Alison successfully applied for our 2012 HI Wireless drama writing programme, which is designed to encourage and develop aspiring drama writers through supported workshops and mentoring. The scheme will culminate with twelve 10 minute dramas being recorded for broadcast online in mid 2013.
Heading further North and then out into the wild west, as Alison grew up, makes her a well-travelled Highland and Islander She sprang from Paisley to Maryburgh, then Dingwall, Thurso, Reay, Halkirk, Stornoway and finally Ness She studied History at the University of Glasgow, and learned to balance her love of the North with urban desires Her career began as a genealogist in South Harris, writing up the stories retained by oral tradition over many generations She enjoyed a few years being an exhibitionist for Museum nan Eilean before embarking on a decade of High School teaching Her focus is now entirely on writing.
We have provided this area of our website for companies and freelance practitioners that ScreenHI has worked with in the Screen and Broadcast industry based in the Highlands and Islands to showcase, network and profile their work and craft.