Rebekah Woolley
Runner
Inverness-shire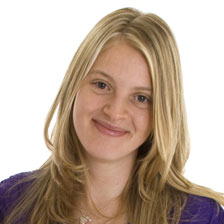 Publicity Manager
Centre Stage Theatre Company, Aberdeen
Producer
Wolfe Theatre Group, Aberdeen
About
Rebekah recently completed the one day intensive Hit The Ground Running course at goNORTH in 2013, which is where she first came onto the ScreenHI radar Hit The Ground Running gives new entrants and those with some experience a real insight into working as a runner on the set of film and television drama Graduating in Modern Languages with First Class Honours Rebekah is looking to combine her interest in Television Production with the communication and organisation skills she has gained during her degree by establishing a career in Television Production Management. She has enrolled in a Television Production training course at Birmingham City University which starts September 2013.
Rebekah's experience to date is varied and includes producing amateur theatre and managing publicity for an amateur theatre group. In her role as producer, Rebekah was responsible for managing budgets, sourcing venues and props, writing press releases as well as co-ordinating cast. In her spare time, Rebekah enjoys creating short videos for YouTube – from this she has taught herself to use Adobe Premiere Pro. She is currently looking to secure position as a Floor Runner or Production Runner.
We have provided this area of our website for companies and freelance practitioners that ScreenHI has worked with in the Screen and Broadcast industry based in the Highlands and Islands to showcase, network and profile their work and craft.