Mark Thompson
Editor,
Presenter,
Radio Producer
Inverness-shire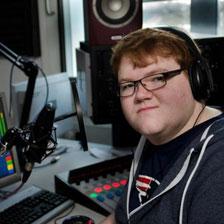 Radio goNORTH 2013
Various packages and live content
goNORTH 2013
About
Mark first worked with ScreenHI in 2012 as a volunteer at their annual creative industries festival goNORTH in Inverness. His role was situated at the Radio goNORTH pop up studio in the grounds of BBC Inverness, where he spent 3 days running and supporting the team. Mark returned to goNORTH in 2013 after successfully applying for the Content Producer role on the second year of our Radio goNORTH training programme.
In between that time he studied for an HNC in Radio in Edinburgh, achieving an A pass in the process. Mark strongly feels that the support, mentoring and funding he received through Radio goNORTH and ScreenHI are one of the reasons why he can continue to work at what he loves doing He currently works as a freelance Producer/Presenter building up on the knowledge and training he has gained in the last couple of years.
We have provided this area of our website for companies and freelance practitioners that ScreenHI has worked with in the Screen and Broadcast industry based in the Highlands and Islands to showcase, network and profile their work and craft.