BBC Scotland Directs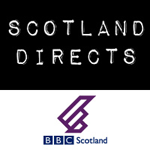 BBC Scotland's Scotland Writes and Directs schemes celebrate writing and directing in Scotland. They aim to increase access to the BBC for new writing and directing talent. Following the success of its new writer's initiative, Scotland Writes, BBC Scotland launched Scotland Directs in February 2011 Meanwhile, several of the Scotland Writes participants completed successful shadow scripts for River City and have since been commissioned to write for the show.
Amy Roberts from Scotland Directs ran a workshop on TV Drama Writing at goNORTH in 2011 The Script-to-Screen workshop in the goNORTH 2011 Programme was also a collaboration with BBC Scotland Drama.