goNORTH 2012
goNORTH is our annual creative industries festival in association with goEvents 2012 had the festivals biggest and boldest programme yet With record attendance in its 12 year history, the pressure was on to ensure all 700 plus delegates had a fantastic couple of days, met the industry folk they wanted to meet and came out of sessions feeling they were worthwhile.
The daytime consisted of a programme of panels and workshops across all genres - Screen and Broadcast, Music, Publishing, Designer Fashion and Digital. These were well attended beginning, ending with ferocious networking and discussion between delegates The hub of the festival was at the Mercure Hotel where most of this activity took place We purpose converted a room in the basement of the hotel into a cinema so that delegates didn't have to go far to take in a film from our Short Film Screening Programme.
In the evenings the band showcase schedule ran like clockwork allowing audiences to move between venues and take in as many bands as they possible could. Inverness lends itself so well to this with venues being so close together The city was buzzing and vibrant for two full days.
The Mystery Tour on day one, despite the weather, found tour guide Olaf Furniss with near to a hundred merry followers ready for some colourful storytelling First stop at the Ironworks, a glass of bubbly in hand, allowed delegates to dry off a bit and watch a film from our Radio goNORTH producer training project Swiftly followed by a live radio drama performance from Hi Wireless – a new drama writing project ScreenHI is launching this year. Soon the tour was off again hot-footing it along to the Townhouse where the tour finished with the lilting voice of Miss Irenie Rose.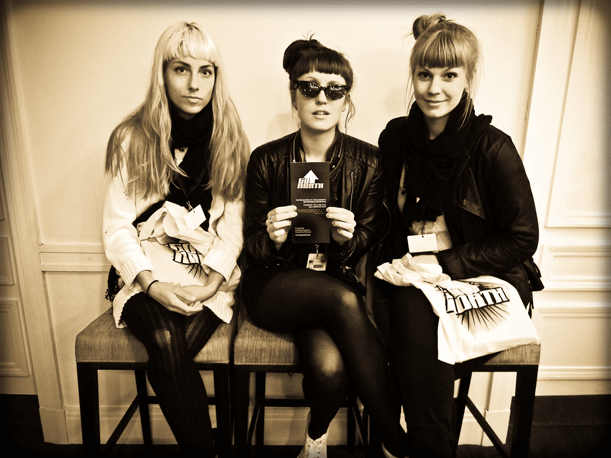 On day two, old friend of the festival Billy Boyd and band Beecake treated us to a semi acoustic session in the Arts Bar early on in the evening and once the final showcases were over the festival was played out at the Aftershow Party by Stanley Odd and a dj set from Mark Jones – a rare night so it was!
See all the action in full colour photographic glory! Next year's festival preparations will start to take shape soon, further information on goNORTH 2013 will be announced on the website and facebook page.