Gordon Napier at the IndieCrete Film Festival 2016
Fri 2 Sep 2016
Lochaber based Writer and Director Gordon Napier represented ScreenHI and XpoNorth Screen and Broadcast at 2016's IndieCrete Film Festival this August..
Image: Copyright Gordon Napier
Gordon Napier
Writer and Director
Here is Gordon's blog about his time there:
Earlier this year I was delighted to receive notification that my short film had been accepted into the IndieCrete International Film Festival in Crete, Greece. The festival received some 1,300 submissions from all over the world and my little film, "TIDE", had been selected as one of the 35 that made the cut. Shortly after I received an e-mail from the festival organisers telling me that they would love to have me over and represent the film at their inaugural festival taking place in August. Whilst the offer to go was obviously very attractive, (I mean who doesn't want to go to Crete, right?) as a recent graduate from Edinburgh College of Art money isn't exactly growing on trees and the flight costs were prohibitively expensive. I thanked them for their kind offer and gave them my apologies that I would be unable to attend and wished them the best with the festival. The wonderful Konstantina Pali, the principal organizer of the festival, said she would pencil in my name in the hope I'd change my mind. As a Highland filmmaker I was aware of the great work that Amanda Millen and her team at ScreenHI do in developing and delivering various initiatives and training opportunities for Highlands and Islands based creatives. I was delighted to hear from Amanda that they were happy to support me attending the festival so that I could travel with my film, expanding my artistic horizons, building my network and further developing myself as a creative professional. The vote of confidence and the feeling of support was a great thing and reminded me how lucky we are to have organisations in this country, which not only facilitate the making of new work and connections to the larger industry, but also support individuals already on their odyssey with a piece of work to help them maximize the potential of having made it at all. I was awarded the Prince William BAFTA & Warner Bros. Scholarship for Film down in London 2014/15 and have always felt, and continue to do so, a great sense of support from big BAFTA south of the border. But this was the first time, outside of an academic context, that I felt the motivated support from a Scottish grown oganisation at a pivotal time in my career where support makes all the difference!
The idea to make TIDE, set on the Isle of Lewis, came around from an interest to tell a story involving the sea and the land and peoples relationship with it in a coastal setting. I've always felt there is a natural healing rhythm to nature and the sea that, if we can tune into it on some level, can heal the soul and provide the quietude for reflection that can allow us to put our anxieties into perspective in some way. Growing up in the Highlands and moving around to the city and returning to the north, I myself feel I have somewhere along the way lost touch with this aspect of myself, and I think this is why I enquire into it my work. So I was interested that the the film had been accepted into an island festival and was eager to find out how the allegory at its core would go down with the Cretans (that's people from Crete by the way, not to be confused with Cretins…!) on a very different island but perhaps subject to a similar rhythm of life.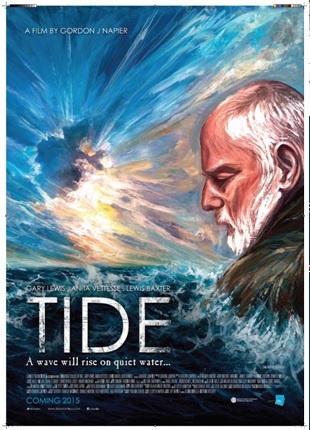 Image: 'Tide' Poster Artwork by Claire Innes & Victoria Butcher
So, fast forward a few weeks and with the date fast approaching it turned out my passport had expired… Great! A stiff drink and few phone calls later and we're back on, disaster averted!
I didn't know quite what to expect of the festival. Being in its first year there was a degree of curiosity about just how well it would be organized and, it being the first time I had left the country in a while, I was perhaps keener than most that it run like clockwork and be worth the trip… The extremely high caliber of films competing at the festival indicated that the festival had plans to firmly establish itself on the international circuit. So far so good!
Images: Shots from the plane flying over Athens at dusk beginning the descent into Crete
On arrival I was met off the plane by the lovely Georgios Mastrakoulis one of the key staff from the festival and a short conversation with him about the days ahead quickly clued me in to what a big deal the festival was locally and just how passionate the organisers of it were. They had been planning it meticulously since the previous November and had pulled out all the stops to really put the festival on the map as the first independent film festival ever to be held in Crete, with funding from the Municipality of Archanon and the local Regional Authority of Crete.
Image: My festival pass, and my ticket to as much free Cretan cuisine and wine as I squeeze in – which turned out to be a fair bit!
Day 1
I headed to the beautiful Village of Archanes, which was the host village for the festival some 20 minutes outside of the capital Heraklion. I was on my way to the first of three masterclasses; Story Telling & Performance in Film & Television with acclaimed directed Grigoris Karantinakis. It became clear pretty quickly that Grigoris's English was about as good as my Greek and that the masterclass content would unfortunately be a mystery to me, a quick check with the festival organisers that there wouldn't be a translation and then it was back to Heraklion and off to lunch with my fellow non-Greek speaking delegates. It turned into a great afternoon actually as I had the opportunity to get to know a few of the other film makers and learn a little about their films before the subsequent screenings and gave me a few friendly faces to chum around with for the week.
Image: Walking around the narrow alleys of Archanes Village waiting for the festival to begin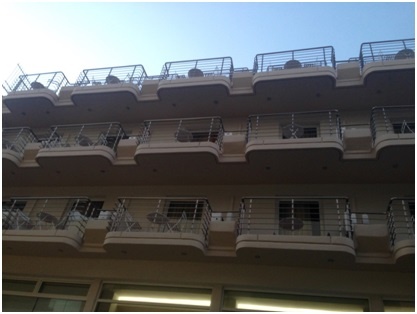 Image: Hotel Irini, our festival base for the week right in the heart of the capital, Heraklion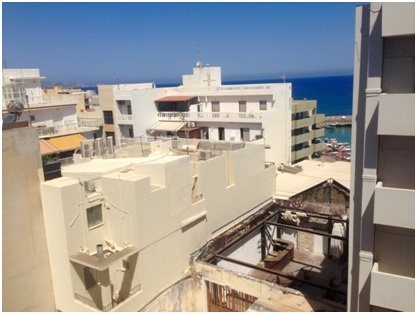 Image: View of the coast from the balcony at the back with the Mediterranean Sea in the distance
The mini-bus came and collected us all from the hotel and whisked us off back into Archanes village for the first night of screenings which started at 9pm and went on until midnight. This was the first real opportunity I had to meet Konstantina the event organiser and the other staff as the official welcome reception was organized for the following night. What struck we was the buzz in this little village and the passion and excitement from the event staff and how eager they were to share our work with the people of Crete. I've been to a fair few festivals in my life but this just felt a bit different. It had a feeling of family to it and an elevation of the film makers and the work over and above the agenda of the festival itself and the labor of organizing it. We were all there to watch each other's work and to engage with the audience in the celebration of visual storytelling. It perhaps sounds like what all short film festivals set out to do, but this just felt…different… more open and genuine with a warm and welcoming environment which immediately calmed the nerves. Of course it could've been the free wine…!
Image: The open air Cinema Paradiso in Archanes Village where beyond capacity crowds packed in each night of the festival
Image: Me and festival organizer Konstantina Pali meeting for the first time at the opening night
After a brief introduction from Konstantina Pali, those aforementioned cozy warm feelings briefly took a back seat when the evenings program started and I was amazed by the incredibly high caliber of the other films showing. It gave me a little knot of nerves thinking about TIDE screening the following day. As any film maker or creative person will know there's always this feeling that goes along with making a piece of work that's personal to you and sharing it with people you don't knoe. A mixed feeling of pride and trepidation and a hint of anxiety that perhaps you're just not good enough! Well I do anyway and I'm sure I'm not alone. I put the feeling to the back of my head and tuned into the curation of some of the best short films I've ever seen in one programme. A massive thumbs up to the festival for creating such a thoroughly entertaining and diverse line up. My particular favorite of the night, although it's hard to choose, was the German film MARGARET & HELMUT where a quirky elderly couple from a small town tackle dementia and desires to travel the world. TRAILER: https://vimeo.com/165424847
Image: Still from 'Margaret & Helmut' Directed by Clemens Bier
Everyone seemed pretty tired after the screenings finished and I think with the welcome reception arranged for the following night everyone was quite happy to turn in for the night. So we were bundled back into the minibus and off to the hotel. Laying in bed that night the slight feeling of trepidation returned about TIDE's screening the following day. How had my wee film made it into this line up of Clermont-Ferrand, Cannes and Berlinale competing shorts? I told myself to shut up and have confidence in what you make and remember that other people will be feeling the same as me.
Day 2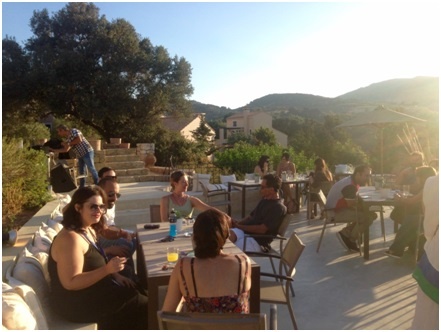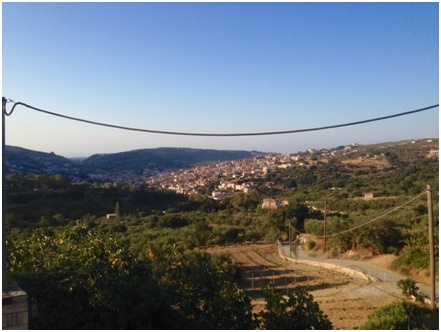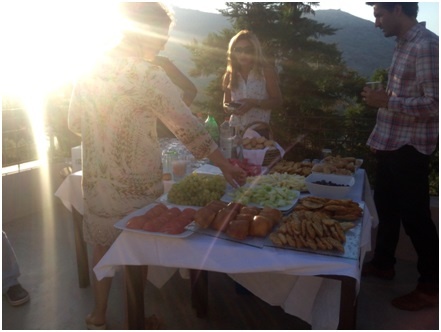 Image: Photos I snapped at the welcome reception at Kalimera, Archanes Village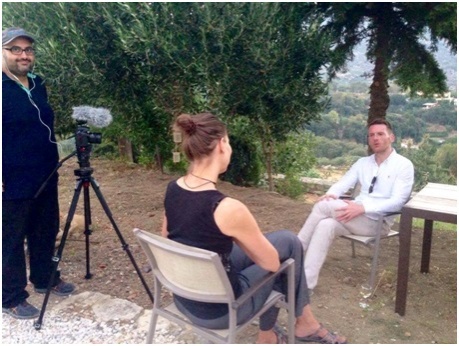 Image: Me being interviewd by Sibylle Meder of IndieCrete Film Festival
After a day of walking around Heraklion and taking in the sites we were treated to a beautiful lunch cooked by Μαρια Μανακα of Ontas Restaurant where again we got to sit together as a group of delegates and I met some others who had just arrived that day. Due to the high caliber of the films some of the other delegates were far more used to travelling with their films and it was great chatting with them and learning of their different festival experiences and how to make the best of networking. Personally I've always found festival networking to be a little uncomfortable and awkward. Often all crammed into the same bar area with music that's just a little too loud and snacks that are just a little too dry. Spending half your time trying to enthusiastically hear what the other person is saying and the other half trying not to spit a chunk of cocktail sausage onto their lapel.
The networking here however was different and tied to their more laid back, perhaps less alcohol focused culture. We sat for a few hours having lunch and drinking coffee and talking about life and learning about each other's creative story. It was a great afternoon and made me feel closer to the whole experience and more part of an international community of filmmakers.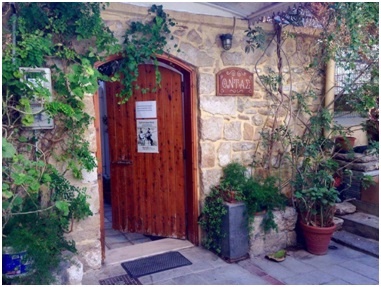 Image: Ontas Restaurant, which translates as "The Bedroom" as I was gleefully informed by it's lovely owner Μαρια
Later that afternoon we were whisked off to the hills of Archanes to the Kalimera Villa for the welcome event which really felt like an extension of the lunch networking. I got a chance to meet and chat at length with the hugely talented actor Stéphane Bertola of the film MOUSSE which was screening later that night. Learning about his hard work and dedication to the film before seeing it in his company was a real pleasure and we've made plans for him to come over to Scotland to collaborate in the future. There was a speech by Konstantina Pali indicating the level of effort gone to in organizing such a large event and thanked us for travelling such a distance to share our work, and the importance of travelling with your art and staying the course with it. Afterwards I was interviewed by the festival about my experiences as a new film maker and of travelling to Crete with TIDE. After packing ourselves to capacity, yet again, with the delights of the island it was back into the mini bus and off to the cinema!
The cinema seemed busier than it was the night before as apparently word had spread about the quality of the films and the place was packed beyond capacity, which was both exciting and nerve-wracking at the same time. There was a real sense of excitement though amongst the other delegates as the festival had programmed all of the attending foreign delegates shorts on the same night.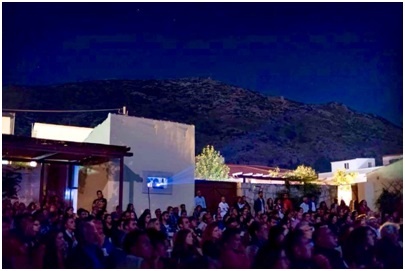 Image: The crowd taking their seats in the Cinema Paradiso, Archanes Village, Crete for night two of the festival
Again there were many fabulous films screening and it was hard to choose, but my favorite of the night was MOUSSE, a Swedish short directed by John Hellberg, which has won 55 international awards and is about a man of pride and principle who is fed up living as a second class citizen and decides to rob a bookies on the outskirts of small town in France. Watching it for the first time sitting next to its main character, who I was having a lunch with just a few hours earlier, was a great moment and gave me greater insight into the journey an actor goes on when collaborating with a director for the first time. For me, this kind of immediate insight and unique experience is part of the reason going to festivals can actually impact on the quality of work you make. TRAILER: https://vimeo.com/77490094

Image: Poster for MOUSSE directed by John Hellberg of Sweden starring Stéphane Bertola
Shortly after MOUSSE it was my big moment, TIDE came on and my nerves vanished immediately as the collaborative talents of my amazing crew were projected in the open air cinema under the clear night sky of Greece. It's easy to forget in all the hustle and bustle of the travelling and the networking and the professional development, that you are just one small part of the machine that started the ball rolling. I was lucky enough to be witnessing this moment on behalf of my cast and crew who selflessly gave their time to the production with the best creative will to just get together and see what we can do as a team. It was a real honor to be in another country watching the audience watch TIDE and think back to all the effort that went into bringing it to life and the journey we've all gone on with the production. A moment, once again, that I'm immeasurably grateful to ScreenHi for enabling. As the Gaelic psalm singing of the score drifted around the cinema and the final credits rolled I felt humbled and and proud and wished my crew could've shared the evening with me.
After the final screening we were treated to a late night feast in the village square where we all ate and drank and chatted until 5am, a mix of delegates, staff, film goers and locals from the village all talking about cinema. It was great. I met a local guy, a perfect stranger 'Petros' who sought me out to tell me that in some way the film spoke to him, and that it would keep him awake thinking about why and how. A lovely end to a busy and exciting day.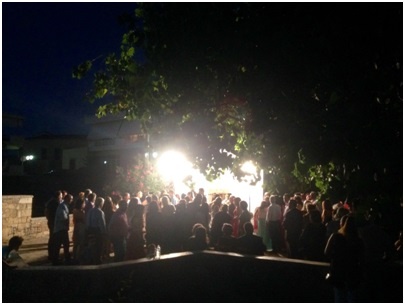 Image: Networking over food and local wine in the village square of Archanes after Day 2 of the festival
Day 3
After another amazing meal at Ontas the delegates were interview for State TV by renowned film critic Alexandros Romanos Lizardos. Alexandros, having seen TIDE the night before, interviewed me about it and sort of reviewed it at the same time which was a new experience for me. What was clear from his questions was that the allegory going on with my main character had translated well to a Greek island audience. My work in Scotland hasn't been particularly well received so far with many people getting hung up on the visual choices and the beautiful depiction of the landscape being too "Visit Scotlandy". Alexandros, and the judges who I spoke to later on, really cut through all that and saw why I was using it the way I was and the visual language behind my decisions. It was really interesting how my characteristically Scottish work was more appreciated and understood by a foreign audience. It gave me a real boost and reminded me that when I'm making my work I'm making it for an international audience and not to lose confidence if it isn't domestically snapped up.
Trust your instincts, collaborate well, do your homework and you'll find an audience if you stay the course.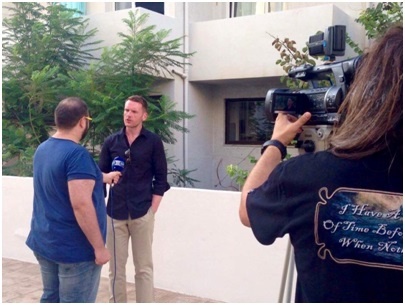 Image: Me being interviewed for State TV by Alexandros Romanas Lizardos
After that it was back into our familiar minibus and whisked back up into the hills of Archanes for the final night of screenings. There were only a few to go, many less than the previous two nights, and then the awards ceremony. The films were again of consistently exceptional quality but with none of the delegates from these films present there was less of a buzz about them as attention turned to the awards ceremony…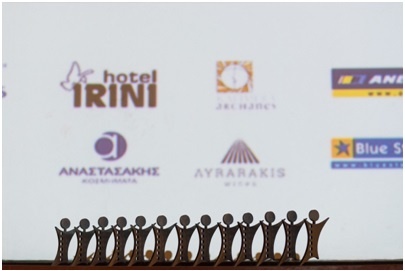 Image: All the awards lined up before the awards ceremony. Photo Credit: Pantelis Sakkadakis
Image: All the attending delegates on stage receiving a gift of local ingredients from Crete, courtersy of the festival and its sponsors. Photo Credit: Pantelis Sakkadakis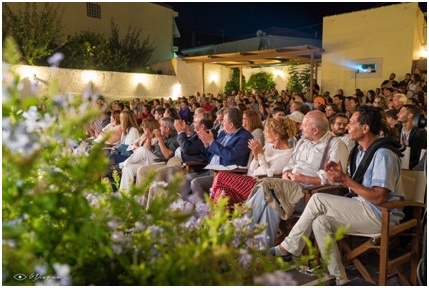 Image: The audience applauding the award winners at the final ceremony. Photo Credit: G. Dragoum
As the awards were read out one by one there were obvious and expected winners with no real surprises with my new friend Stéphane Bertola's film MOUSSE picking up 'Best Comedy' and my other favorite MARGARET & HELMUT taking home 'Best Film'. All of the awards were read out in Greek first so there was always a little delay and confusion as to the winner which was quite fun as we all waited with baited breath. I say all, but at this point I was just so happy to be screening alongside such work which I considered superior to mine, that I knew TIDE wasn't really competing for awards. However, the beautiful and talented actress Themis Bazaka, who was also one of the jury members, spoke into the microphone in Greek for a few moments and then I heard "TIDE!" I had no idea what had been said or what award was being announced. Then all the clapping drowned out the translation from Konstantina so I just walked up to the stage and then I glanced the award and it said "Best Actor" for Gary Lewis' performance. Really incredible feeling to take to the stage and accept the award on his behalf knowing the effort we both went to in crafting the role and characterization from script to screen. A real sense of achievement again considering the quality of films in competition.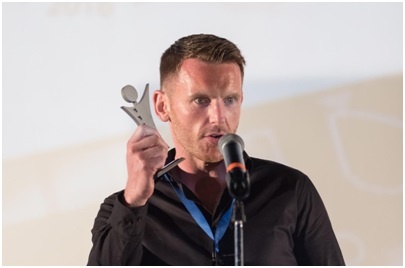 Image: Me accepting "Best Actor" award on behalf of Gary Lewis for TIDE. Photo Credit: Pantelis Sakkadakis
Straight after that award I heard "TIDE" again and a similar funny confusion was had briefly. This time the award was for 'Best Original Music Score'. The music was an important tool in communicating the atmosphere in the film as well as its overall tone of an island community steeped in history, and it really seemed to connect with people I spoke to out there. The Gaelic Psalm singing communicated a mood to some of the Cretans that felt familiar to them although the Gaelic language wasn't, which was the whole idea behind utilizing call and response unaccompanied psalm singing which, in some way, mimicks the undulating roll of the sea which is a universal rhythm of nature that most people can readily identify with. So it was really gratifying that the film was acknowledged for this unifying element. The award is shared between composer Kenny Forrest, Psalm Singer/Precenter Calum Martin and Sound Designer Ross Buchanan who worked to hone the score beyond the original composition. A proud moment for me and the team.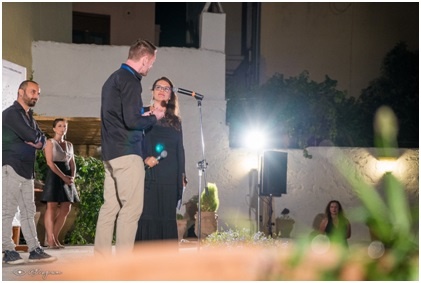 Image: Me accepting the 'Best Original Music Score' award on behalf of the team. Photo Credit: Pantelis Sakkadakis
After the awards ceremony it was off to the after party back round in the village square where we danced the night away until 6am the next morning.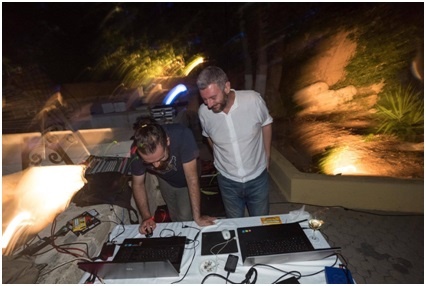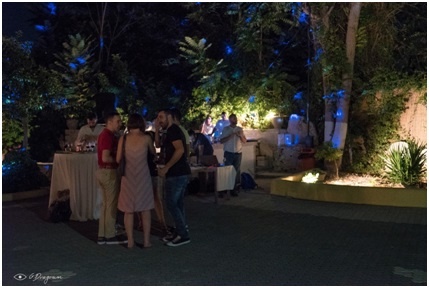 Image: After party fun in Archanes Village square where we listened to classic film soundtracks until the wee hours in the morning. Photo Credit: G. Dragoum
At the party was a great opportunity to network in more depth with some of the other delegates and staff and exchange numbers and e-mail addresses still buzzing from the days excitement. It was here I met the fabulously talented Greek editor Nikos Vavouris who edited the much acclaimed RRACOON about a young homeless man who meets a young girl who changes his life. TRAILER: https://www.youtube.com/watch?v=wJGFOBC4QfM. It was an arresting short film which had a fascinating blend of live action and animation sequences which posed a great conundrum to him at times in terms of finding the natural rhythm of the piece.
Nikos and I chewed this over for some time and discovered our shared filmic inspirations and aspirations in cinema and agreed to keep in touch about collaborating in the future. It's genuinely an incredible feeling to travel abroad with your film and have it bring you together with complete strangers who turn into friends and future collaborators. The last part of the night, to be honest, is a bit of a blur of Greek singing and dancing and strong local wine-spirit that'll put hair on your chest! What a festival! What a passionate bunch of organisers! What an experience. I've never been so well looked after in my life!
This was the trip of a lifetime for me that came along just at the right time to connect me with my craft and my professional practice in a whole new way. My message to you would be to believe in your film and don't just stick it up on YouTube. Try and find an audience with it and send it to festivals and get your film out there in the world. If it's a story you want to tell then there's an audience for it somewhere. And travel with your film if you have the chance, it a unique experience and will connect you with the industry in a whole new way. A huge thank you once again to ScreenHI/XpoNorth for helping me attend the festival, I couldn't have gone without their help and the great work they do in supporting new and emerging talent. So get in touch with them and find out how you can best get involved and find the support you need to take the next step in your career.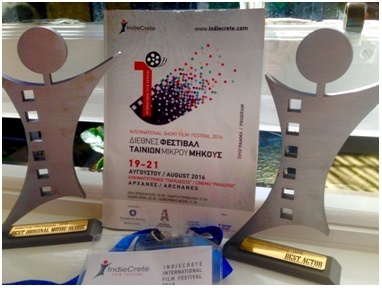 Image: Trophies for Best Actor and Best Original Music Score
Visit the IndieCrete website or like their Facebook Page.