Robin Haig at Live at Heart Sweden
Wed 28 Sep 2016
Highlands based Writer and Director Robin Haig represented ScreenHI and XpoNorth Screen and Broadcast at 2016's Live At Heart festival in Sweden this September..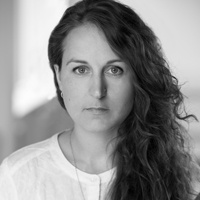 Image: Copyright Robin Haig
Robin Haig
Writer and Director
Here is Robin's blog about her time there:
Live at Heart, Örebro, Sweden, 31 Aug - 3 Sep 2016
Hula, a short film I made about liberation in a small rural community, had it's premiere at this year's XpoNorth to a full-house, with the producer Lindsay McGee and myself giving up our seats and standing at the back of the Eden Court cinema. Opening Hula in the Highlands where the story was inspired and set and where I am from could not have been more fitting and I thank XpoNorth and it's director Amanda Millen for inviting us. In this particular audience was Daniel Lundsten, the festival manager of Live at Heart, and so Hula's journey to Sweden began…
Image: Live at Heart programme. Copyright: Robin Haig
Live at Heart is a music and film festival in Örebro, a small city about the size of Inverness, just a few hours west of Stockholm. On arrival we headed straight to the town's castle for the opening reception. Örebro castle sits on an island in the middle of a river that flows through the town centre. A beautiful setting and pretty special to sip Prosecco in it's beautiful old rooms lined with paintings, whilst meeting musicians and festival participants from around the world. Thanks to the mayor for letting us in.
Image: Örebro castle opening L-R: Robin Haig, Eva Krause (Live At Heart), Amanda Millen. Copyright: Robin Haig.
Image: Portrait paintings lining the walls of Örebro Castle. Copyright: Robin Haig.
Live at Heart is a showcase event and bands participate with the idea of getting signed for tours, so each act plays for 45 minutes with a 15 minute changeover. During the four days of Live at Heart there are 20 places throughout the centre that participate as festival venues. This created a great vibe and meant you got to know your way about quickly. Imagine, you're in Sweden, and you could be eating in a sushi restaurant listening to a singer (Daniel Thomas Phipps), from America with a voice like Ray LaMontagne or sitting in a church, pews packed, and when the audience sings back to the folk band (Meadows), their collective voice echoes through the high ceiling arches, creating the most soft and glorious sound. That particular experience made me wonder when this church, Saint Nicholas, had last been this packed. Other venues were bars, hotels and concert halls. It means you can dot all over the town listening to all types of music - 200 acts in over 300 gigs to be precise.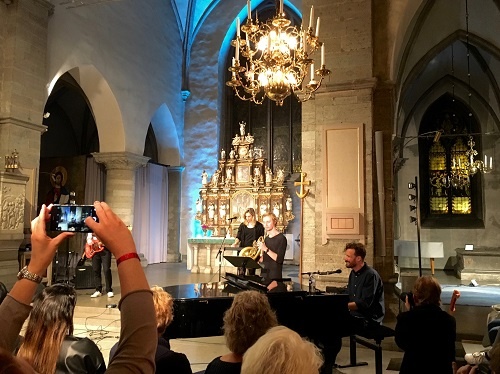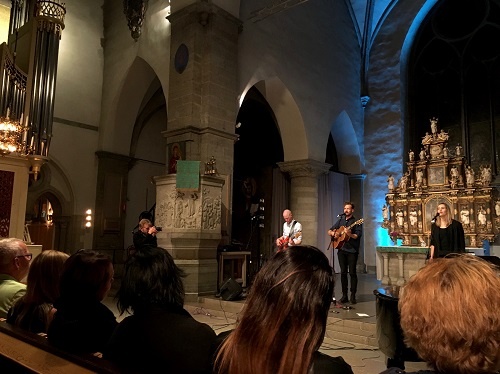 Images: Meadows performing at Saint Nicholas Church. Copyright: Robin Haig.
During the day there were seminars about building your network, business relationships in America, co-productions between countries, marketing and branding, social media, creating your own brand of beer, 360 VR and how to write hit songs for the Asian market. I would have loved to learn how to write a song for the Asian market but alas, it clashed with a short film programme. All this coupled with the opportunity to meet developers, mentors and peers. I connected with social media gurus from America, filmmaking peers from the UK and beyond, and musicians from all over including some from an organic farm in Vermont which was right up my crofting alley.
Hula showed on the final day, in the most amazing retro cinema called the Bio Roxy. A more beautiful setting I could not have asked for. Hula was preceded by three other Highland connected films:
Sporran Makers (10mins): Mr Scott's traditional sporran workshop is under threat as he battles against cheap foreign exports. Director Jane McAllister.
Joose (15mins): There's not an awful lot for the youth in Buckie to do so the skate park provides a focus. Director Tom Duncan.
Siubhlachan (5mins): A young girl inherits a watch from her Grandfather that allows her to deal with the loss she feels at his death. Director Uisdean Murray.
... and they all received great feedback. There was a Q&A after, with good questions from a diverse Live at Heart audience. I think I found an international audience for the TV drama series of Hula that I am currently developing with the writers, Mandy Lee and Claire Nicol.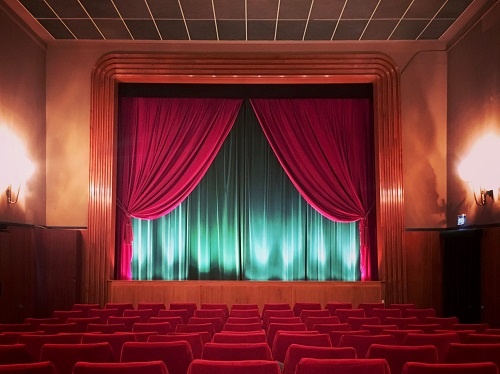 Image: Bio Roxy Cinema. Image copyright: Robin Haig
Having attended a fair few film festivals, I would recommend trying out the ones that showcase music and film, even if just for the fun and diversity. Where else do you get to hear such a range of live music in such a condensed time and talk to the artists after. As a director who is inspired by music and the feeling it creates, I am always on the lookout for new music, so the music-film festival model is the perfect combination for me.
Robin Haig website robinhaig.com
Hula trailer
Hula on Facebook