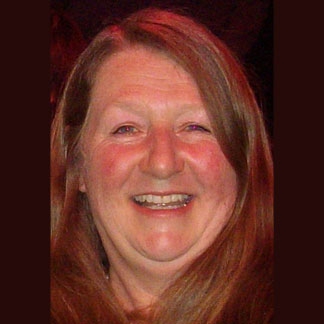 Jan And Her MA In Progress
Wed 18 Dec 2013
Jan Storie embarked upon a one year MA in TV Fiction Writing this year after receiving a scholarship from ScreenHI. We have been involved in the Glasgow Caledonian University based course since 2010 as it provides credible training focussed on writing for television. Find out more about the partnership here. Follow Jan as she enjoys student life, academic challenges and explores her creativity throughout her year in her very own blog...
GCU or Bust, 17th December 2013
My very small car is groaning as I head South Luckily it's downhill all the way from the Highlands. Large rucksack, computer bag, wheelie suitcase, 3 other bags of life's detritus, a dog bed and dog (she's navigating!) all take their toll on the suspension Let's hope the brakes work. Arriving in Glasgow as the light is fading, I'm giggling like a teenager. Am I in a time warp? I can't believe that I'm going back to University at my age to study TV Fiction Writing and it's all thanks to a scholarship from ScreenHI.
My first full day at Glasgow Caledonian University starts with a laugh when I go to swipe my student card to log my attendance. It doesn't work. First lesson - my bus pass has limitations. I take a walk around the Campus It's a great environment with green spaces and room to breathe. The catering's good too. In fact GCU has a great vibe with students from all over the world and we're in Glasgow after all, as friendly and welcoming now as it was forty years ago when I first lived here. I'm feeling quite at home. Ah, Freshers' Week. Luckily my creaky knees don't hinder the need to dodge the celebratory undergrads. Only wish I had their energy but, actually, at 8.30 on a Monday morning, I probably do but they don't see it. Anyway I survive. After all I've been there, done it and probably worn the T- shirt two days running.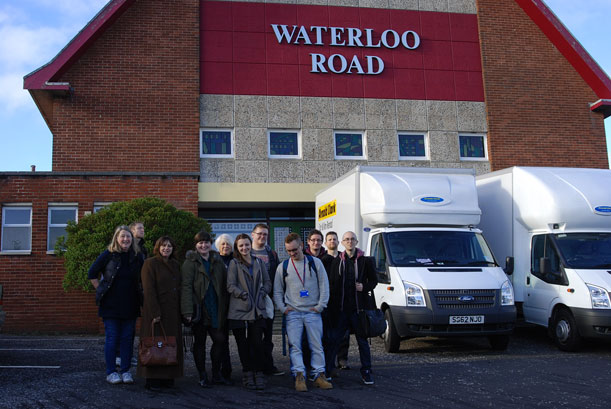 The MA TV Fiction Writing class is a small and, we like to think, a rather select one. We have gelled well. Ten of us from all over the UK and Ireland each bringing something unique to the table but we all have one thing in common - we want to learn That process starts straight away. Modules include Story and Script Techniques, Writing for an Existing Long-Running TV Drama, Creating Original Drama and Researching the Television Fiction Market It's all good with great tutors including Ann Marie Di Mambro, Chris Dolan, Catriona Miller and Ian Mowatt. They bring with them their vast experience making the course totally absorbing. There's so much to learn, to discuss, to watch and to read. We also have fantastic visits from industry experts including Mal Young, Chris Aird, Henry Swindell, Marc Pye, and Gregor Fisher among many others. Another highlight has been a trip to the set of Waterloo Road which gave us a fantastic insight into this popular series.
On 20th November we formally received our scholarships at a function at STV. It was a great night and a good opportunity to network with industry professionals and graduating students.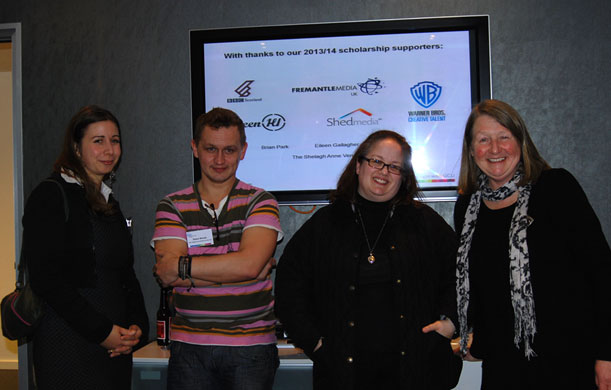 There are assignments, including essays of course (still my beating heart!) The last time I wrote an essay 'Chirpy Chirpy Cheep Cheep' was in the charts. There is plenty of help and advice available though. The technology has also been a little challenging for me. However, I have recently conquered my fear of crushing some hapless student between the moving shelving system in the library and been hands on. Consequently I have discovered a few more books to read!
So I have made it to the end of the first term with a great group of new friends No doubts now. It's so good to be studying for my MA at GCU Thanks ScreenHI for your support which has allowed me to study a subject I really love.
See you next term.
Jan x