Tom Duncan
Director,
Producer
Moray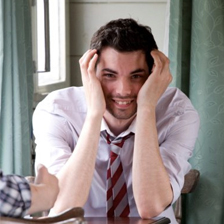 Links
Tom Duncan Film
Tom Duncan Showreel

The Victorians: How They Influenced Us
6 x 5 mins, factual documentary
BBC Scotland Learning
Art Roc Doc
1 x 30 min film (Director)
Central Station
Joose
1 x 18 min film (Producer)
Moray Drug and Alcohol Partnership
5x5x5
5 x 4 min films (Producer)
Voluntary Music Video Project
Tumult
1 x 12 min film (2nd AD)
Young Films
Last of the Scottish Wildcat
1 x 60 min film (2nd AD)
Coffee Films
GTV
6 x 5 mins (Producer)
Gordonstoun Schools
About
Tom Duncan is a freelance producer/director shooting factual content for broadcast and business ScreenHi first came in contact with Tom at the Moray Film Festival after which he was offered a work placement with Young Films for their short film Tumult. He writes and develops drama with a view to eventually producing broadcast and feature film productions in his home area of Moray His debut short 'Joose' was nominated for a BAFTA New Talent Award in March 2012.
Tom studied Screen Project Development at Edinburgh Napier University, graduating in 2009, and has directed content for clients as diverse as BBC Learning, Central Station, Business Gateway and Shelter Scotland He maintains an active role in the local creative community, producing projects with Creative Moray, a voluntary development group set up to improve collaboration in the Moray area Tom's background is in teaching and he continues to lead youth workshops and filmmaking programmes across the Moray area through both Eden Court Theatre and the Moray Art Centre.
We have provided this area of our website for companies and freelance practitioners that ScreenHI has worked with in the Screen and Broadcast industry based in the Highlands and Islands to showcase, network and profile their work and craft.