BBC Learning LabToo Films 2013
Mon 19 Aug 2013
The Victorians: How They Influenced Us
ScreenHI won a second commission from the BBC Learning department at BBC Scotland this year following on from the success of our 2012 commission. The opportunity offered a real industry experience for four directors to develop their skills in a supported environment Read about their experiences of delivering to a UK broadcaster below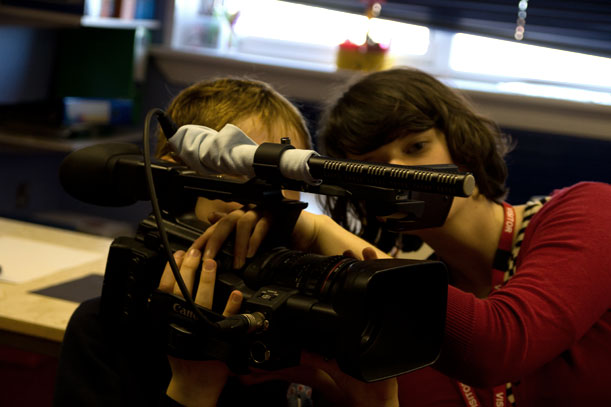 The Shetland Times, Shetland Lace and Up Helly Aa
Working on The Victorians : How They Influenced Us through ScreenHI was invaluable experience for me as a filmmaker. One of the most valuable aspects of what I learnt was completing the industry paperwork, which was a key requirement of the delivery agreement to the BBC. This is something I hadn't had much contact with before, but now feel confident in completing thanks to the support of ScreenHI.
I enjoyed the opportunity to learn more about and highlight parts of my islands heritage, and particularly filming with the children involved as they passed on what they knew so enthusiastically. I also found out how to tailor my ideas and concepts for films through focusing on a singular story or character within the piece, which really helped me present a clearer picture of the films and hopefully make a better film as a result.
If I had the opportunity again I would definitely dedicate more time to do ground research with my school groups and characters as well as more in-depth recces at my locations. I would feel more prepared and confident with this knowledge going into a shoot.
I think that the children involved really enjoyed learning about using the equipment and got so much more out of the project as a result of being able to get involved in this hands on way.
There were difficulties along the way It was a demanding project with a short production time, a lot of different things to co-ordinate and organise. Although I expected hard work, it was often a juggling act between many different roles such as the paperwork, scheduling and other aspects of the film production before and after filming, I think this was valuable experience to have been a part of and I wouldn't have taken so much away from the project otherwise.
Working remotely was an issue at times and I think this could have been improved had I been able to be in Shetland for the whole project time.
I am really pleased with the finished results and know from feedback that the schools are pleased too. I had fantastic support from the ScreenHI team, who put me right and helped me with the paperwork and other aspects of the process that were new to me.
Aidan Nicol, Director, Shetland
Harris Emigration
Possibly the most difficult part of the process was reducing two to three days filming to five minutes. It was a good exercise in that it made you focus your attention in the edit as to what was necessary to tell the story. I am still sorry that we had to leave out so many interesting clips.
I appreciated the help I got with the 'admin' side of things. It was so helpful to get assistance about what required copyright clearance and what did not It is a complex area of production and can be such a minefield that, since completing the production, I have gained a much better appreciation of what it involves.
Roddy Maclean, Director, Harris
Shinty: The Wild Game And Victorian Children - The Inside Story
I was delighted to be involved in creating content for the BBC earlier this year. It was a very steep learning curve for me on several fronts, from paperwork and script writing to working with a class of young children and operating a broadcast quality camera At times I felt out of my depth as plans became quite ambitious, but I learned so much working alongside experienced staff and found the whole experience extremely worthwhile.
Helen Graham, Director, Kingussie & Newtonmore